Submitted by Chad Shmukler on
If you tunnel deep into the pit of your memory, you can probably remember the 4GB version of the Apple iPhone. Back in the day (7 months ago), there were two versions of the Apple iPhone, the 4GB version and a double capacity iPhone of 8GB. After a few months, however, Apple discontinued the 4GB iPhone leaving only the 8GB model. Well, the big brother is now the little brother, and we're back to two models. Apple announced today that new models of the iPhone and the iPod Touch are available, both with double the capacity of their younger siblings.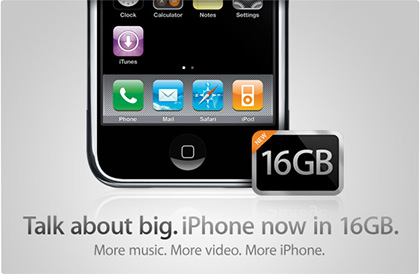 The new models, the 16GB iPhone and the 32GB iPod Touch, are already available for purchase via Apple's
online store and presumably in Apple retail outlets, though we've yet to confirm the latter. The increased storage of both models should help to calm the complaints of storage hungry prospective buyers who have avoided either device thus far because of their "limited" storage.
As it was when the iPhone was launched, prospective buyers will now have to decide whether dropping an additional $100 at checkout time is worth it to double the storage of their shiny new iPhone or iPod Touch.
The new models will presumably also add a bit of a boost to iPhone and iPod Touch sales. This move will likely be welcomed by investors who recently saw Apple stock slide from over $200 to as low as $128 per share after Apple released a dissapointing quaterly iPod sales forecast.
Apple (AAPL) is trading slightly up (1.23 percent) at the moment.