One of the popular iOS system modifications on Cydia is known as Cydget. Developed by Jay Freeman (saurik), Cydget is available free for jailbroken devices on the Cydia/Telesphoreo repository.
There are currently 93 add-ons for Cydget available in the section Cydia -> Sources -> All Sources -> Addons (Cydget).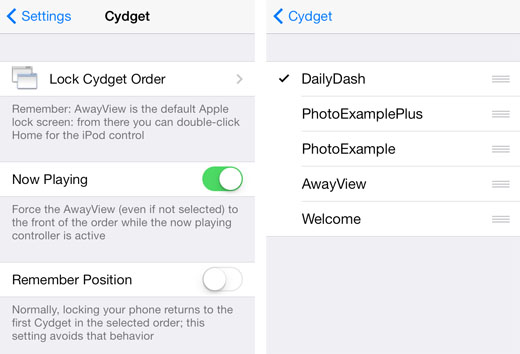 Once installed, Cydget add-ons can be reordered in Settings -> Cydget and will modify the look and functions of the iOS lock screen display. Users can cycle through multiple Cydgets by pressing the home button while on the lock screen.
In contrast, WinterBoard Widgets do not allow the user to cycle through multiple lock screen displays, they will overlap instead.
More details are available at the Cydget info page on Cydia.