Submitted by Frank Macey on
Wireless charging solutions can be handy, just drop a compatible device onto a charging pad and it will grab some juice. While these solutions eliminate the need for charger plugs and wires in everyday usage, a new patent awarded to Apple takes the concept one step further. Imagine a future MacBook that automatically powers a wireless Magic Mouse, or charges an iPhone anytime the device is placed nearby.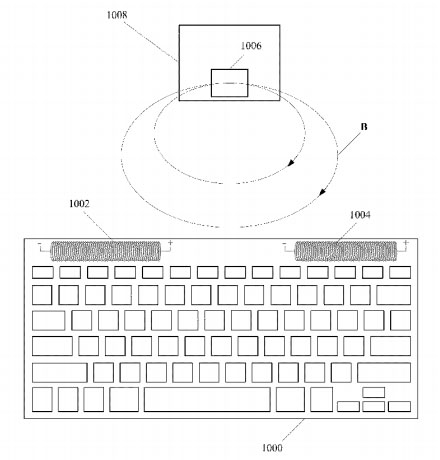 The technology is called wireless Near Field Magnetic Resonance (NFMR) power transmission. The patent awarded to Apple explains that normal batteries could be replaced by wireless power units, which would receive energy from a nearby transmission device. Transmission from a laptop or tablet would create a zone around the computer that could be used to power any peripherals equipped with these units.
Apple goes on to explain that older computers could gain NFMR capability with an add-on dongle or other portable transmission unit. If the wireless power units are a standard form factor, such as AA batteries, then the possible configurations for wireless power transmission are greatly expanded. Such a backward-compatible NFMR solution could make wireless charging as ubiquitous as wireless data networks.
Wireless charging solutions depending on a charging pad or mat use inductive charging, which only works if the device is in direct contact with the pad. While the NFMR patent awarded to Apple mentions a one meter (3-foot) range, according to ZDNet other companies are working on extending this range up to four times further.
NFMR has its own limitations which would affect performance in real world scenarios. Apple points to powering multiple devices simultaneously and physical interference with the direct power channel as considerations. In any case, if the patent becomes reality it could vastly simplify the charging of mobile devices, even eliminating the need for batteries in a variety of applications.