Submitted by Chad Shmukler on
Apple continued its 2008 tradition of Tuesday announcements this morning, but despite the hopes of many iPhone owners and developers out there, not with the release of the official iPhone SDK. Instead, Apple made a potentially bigger splash with the announcement of new models in their enviable Macbook and Macbook Pro notebook lines.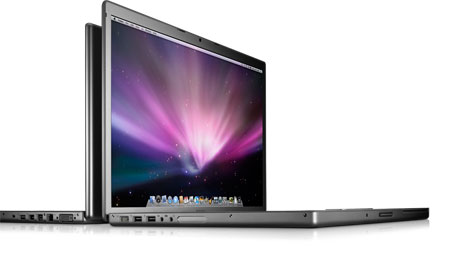 As we reported earlier this week, there was already a rumor floating around that suggested the iPhone SDK would be delayed, possibly until as late as the middle of March. With Apple already making an announcement this Tuesday morning, and February just about to close, the likelihood of that rumor being true is steadily
increasing.
The good news for the Apple faithful, however, is the arrival of these new, beefier Macbooks. Both the regular Macbook and the Pros received upgrades to the new 45-nanometer Penryn processors from Intel and larger hard drives. The Pro models also received the new multi-gesture touchpad previously announced on the Macbook Air as well as a doubling of their video RAM.
The Macbook models range in price from $1,099 to $1,499 while the Macbook Pro models range in price from $1,999 to $2,799. More info available at
Apple.com
.