Submitted by Sammy Snyder on
The jailbreak team behind the Pangu iOS 7.1.x jailbreak announced on Weibo that they have begun working on hacking iOS 8. This does not mean an iOS 8 jailbreak tool will be released anytime soon, but it is good to know that someone is working on a solution since other developers, like the evad3rs, have been silent about their plans for future jailbreak releases.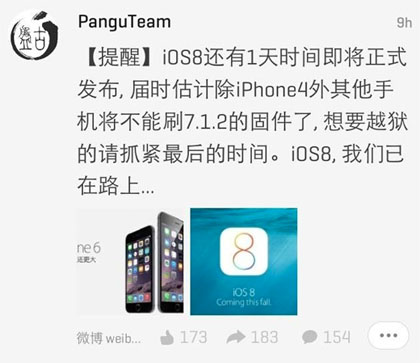 The PanguTeam caused an uproar in the jailbreaking community in June when it burned two exploits to release its Pangu iOS 7.1.1 jailbreak. However Comex, the creator of JailbreakMe, expressed his support of the PanguTeam when he said he was happy that "public jailbreaks are no longer a monopoly."
It is unknown when and if the PanguTeam will release an iOS 8 jailbreak or if any other jailbreak teams are currently working on a solution at this time. What we do know is that it normally takes a few months for a new jailbreak to be released. For example, it took the evad3rs four months to jailbreak iOS 7.
Jailbreakers who want to keep their devices jailbroken will need to stay at iOS 7.1.2 until a new jailbreak is officially released.