Submitted by Sammy Snyder on
When I first saw customer reviews that said things like, Five Nights at Freddy's "is officially the scariest game I have ever played," I was skeptical. I thought there is no way an iPhone game, or really any video game, could be scary, but I was wrong. Five Nights at Freddy's has actually made me jump while playing it, and even if it doesn't scare you, it is still an intense game that is perfect for Halloween.
Like any cheesy horror movie the plot of Five Nights at Freddy's requires some suspension of disbelief, but its over-the-top premise is what gives it its charm. You're the new night watchman at Freddy Fazbear's Pizza, a Chuck E. Cheese's-like restaurant and arcade. Your job is to watch Freddy Fazbear and his animatronic pals from the safety of your office, which turns out not to be so safe. Freddy and his pals like to wonder around at night and awful things happen to humans who accidentally bump into them. Luckily you have two security doors to keep you safe, but due to corporate budget cuts you only have a limited amount of power to run your lights, security cameras and doors.
The goal of the game is to survive 5 nights at Freddy Fazbear's Pizza. You're only armed with a few fuzzy and unreliable security cameras, two power draining security doors and some nightly but rarely helpful advice from the previous night watchman. The game is a little reminiscent of Night Trap on SEGA CD, but instead of watching Dana Plato, you're stuck watching 3 incredibly creepy giant dolls that seem to disappear and reappear randomly.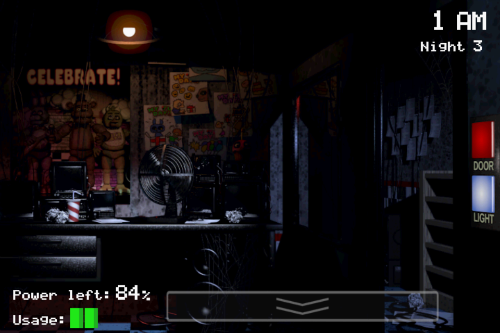 Some may find Five Nights at Freddy's a bit boring because all you do is click random buttons to check cameras and switch on and off lights, but somehow developer Scott Cawthon has managed to make looking at a few still images absolutely terrifying. The only way to play the game is to frantically search the camera feeds in hopes to catch a blurry glimpse of a cartoon animal while sitting helplessly by as your power source drains away. You will try to conserve energy by staring at your desk, but it takes a lot of self control not to constantly scan the dark rooms of Freddy Fazbear's Pizza. Seconds start to feel like hours and before you know it two eyes are staring back at your from darkness and the game is over.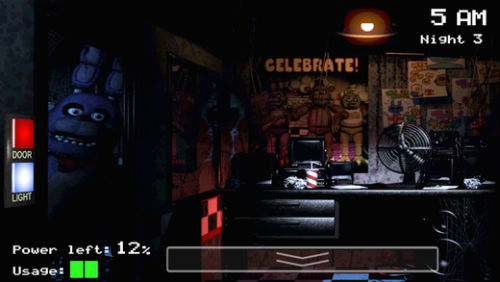 At first I thought
Five Nights at Freddy's
would be better if they gave you something to do in the office. Even if it was the ability to turn on the fan or switch on the TV, but then I realized that's the beauty of the game. You just have to sit there and wait for your inescapable demise.
Five Nights at Freddy's
is one of those rare games that only come along every so often. It's so simple, but so well designed that is a must have for horror fans and people looking for something unrelentingly creepy to play. Freddy Fazbear is the new Shape aka Michael Myers of animatronic cartoon characters, if that makes any sense.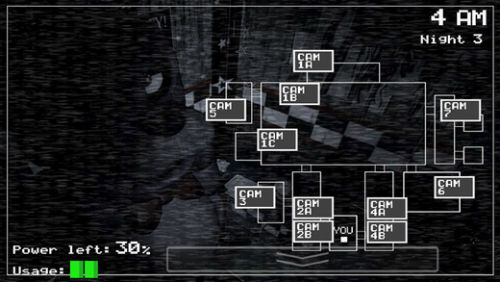 Make sure you play this game with the lights off and headphones on or you will not enjoy the full experience. Five Nights at Freddy's is available on the App Store for $2.99. It requires iOS 5.1 and 512MB of RAM to play. That means the iPhone 4s or later, iPod Touch 5th Generation or iPad 2 or later.
Five Nights at Freddy's is probably more enjoyable on the larger iPad, but I tested it on the smaller iPhone 4s and the game did not lose any of its impact.