Submitted by Sammy Snyder on
You can't escape the IRS even in death and those who do try should be expecting a visit from the "semi-organic autonomous skull" agents of Skullduggery. In the game you play as an upstart collection agent for the Infernal Revenue Service who must seize assets from "deadbeats" who tried to beat the system by taking their riches with them to the afterlife. You do this by stretching your brain to snap your skull around various levels in the underworld.
The premise may be zany, but Skullduggery's gameplay is a lot like Angry Birds, or any other physics-based games available on the App Store. Unlike Angry Birds or Crush the Castle, the goal of the game is not to just knock stuff over, but it's more of a platform title where you pull back on your skull to slingshot yourself forward and through obstacles. Skullduggery offers a very easy one-touch playing experience, and its "Bullet Time" feature gives it a more fluid Matrix-like control where you can slow things down midair and change your trajectory. The controls are simple to master, and once you do, you will feel like you are playing any other platform game.
Skullduggery features 24 levels through 4 different worlds. Each level gives you a primary objective, such as "seize 3 assets" and a secondary objective, such as "Finish within 95 seconds". Your goal is to make it to the end of each level while attempting to check off as many objectives as possible. Being able to go back and complete all the objectives in a level gives Skullduggery a very high replay value, which is always a huge plus when it comes to pay titles. You can also collect coins and other gems to rack up your score and take over the Leaderboards. All together there are 72 medals, 72 assets, 72 stamps to collect and 20 additional characters to unlock. All these achievements plus the many challenging levels in the game add up to hours of enjoyable skull-flinging playtime. The game also doesn't feature any in-app purchases, so you earn everything by actually playing and not by spending real world money.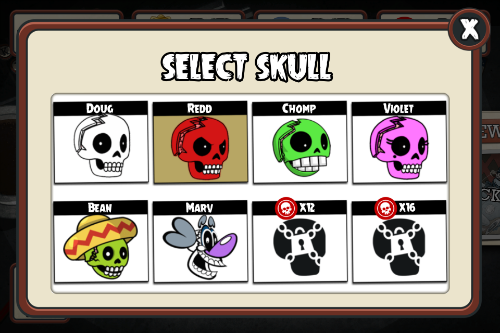 Skullduggery is the perfect mobile game that anyone can enjoy. The graphics are great, the controls are super simple to master, the levels are creative and challenging and the story is fun. You really can't ask for anything more for only $5, but there is MORE! The game also features a Head-to-Head mode, hidden treasures to discover and boss battles.
Skullduggery
is more than a "Halloween App of the Week," it is one of the best games I have played all year!
The game is available now on the App Store for $4.99. It supports all devices running iOS 6.0 or later and it works fine on the smaller iPhone 4s display.