Submitted by Marshall Walker on
Apple's official Apple Store app has been updated to version 3.1 with Apple Pay support. iPhone 6, iPhone 6 Plus, iPad Air 2 and iPad mini 3 owners can now make "easy one-touch" purchases within the app by using their device's Touch ID fingerprint sensor.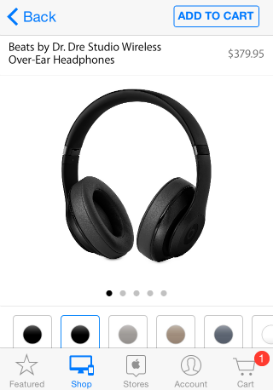 Your device needs to be running iOS 8.1 and have Apple Pay setup to use the Apple Pay option when checking out. iPhone and iPad owners can setup Apple Pay in the Passbook & Apple Pay section of the Settings App. Just select "Add Credit or Debit Card" and use your device's camera to scan your credit card information or manually type it in. iPhone 6 users can also add a credit card to their Apple Pay account via the Passbook app by swiping down and tapping the plus sign, or you can use the card connected to your iTunes account by entering that card's security code.
The Apple Store app is available for free on the Apple App Store. It allows iOS users to easily purchases Apple products, such as the new iPad Air, and accessories from their iPhone or iPad. The app supports all devices running iOS 7.0 or later.