Submitted by Marshall Walker on
Apple CEO Tim Cook is planning to push the Apple Store application in an effort to sell more hardware through direct Apple sales channels. Cook is disappointed that 80% of all iPhones are sold outside of Apple retails stores, and that only 20% of iOS customers are even aware there is an Apple retail app available. 9to5Mac has learned that Apple plans to redesign the application so it fits "more in line with the user-interface of the App Store, iTunes Store, and iBookstore in iOS 6."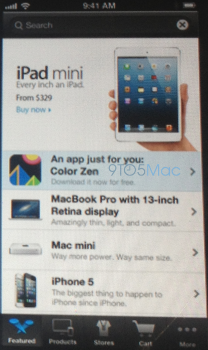 Apple employees are being instructed to install the Apple Store app to any new devices that are sold at any retail location. Apple will also offer free content as part of the push to make people more aware of the app. Cook hopes this new strategy will get more iOS users accustomed to using the largely ignored Apple service.
The app update will land on the same day that Apple plans to announce its financial results for Q3 2013. The conference call will take place on Tuesday, July 23 at 2 p.m. PT.