Submitted by Frank Macey on
Action-comedy film The Interview is now available on iTunes for rental or purchase. The title, starring James Franco and Seth Rogen, made headlines this year for ruffling the feathers of the North Korean leadership. The movie, which depicts a farcical assassination plot against Kim Jong-un prompted an attack on Sony Pictures' computer systems.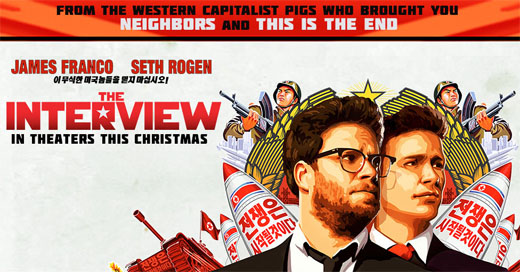 The data breach leaked unreleased films, internal memos and company email to the world. Threats against movie theaters curtailed the box office release of The Interview, however both official digital releases and bootlegs are now widely available. When it comes to the movie itself, iTunes users have rated the film with 4 out of 5 stars. The Interview can be rented or purchased on iTunes for $5.99 or $14.99 respectively.
Critics have given The Interview mixed reviews, with Rotten Tomatoes clocking in at just 52 percent. IMDb users are more generous, giving the film a 7.7 rating out of 10. Here is one official trailer:
An excerpt of the plot summary from iTunes reads:
Dave Skylark (James Franco) and his producer Aaron Rapoport (Seth Rogen) run the popular celebrity tabloid TV show 'Skylark Tonight.' When they discover that North Korean leader Kim Jong-un is a fan of the show, they land an interview with him... As Dave and Aaron prepare to travel to Pyongyang, their plans change when the CIA recruits them... to 'take out' Kim Jong-un.
Even the movie poster sports jokes,
featuring Korean text
that reads, "Do not trust these ignorant Americans" and "Awful work by the pigs that created
Neighbors
and
This Is the End
".