Since smart phones revolutionized the mobile phone industry almost a decade ago, Christmas day has seen the most mobile device activations every year, and the trend continued in 2014. According to the analytics firm Flurry, Apple (NASDAQ: AAPL) handily beat the competition this holiday season, as evidenced by that metric over the week leading up to and including Christmas.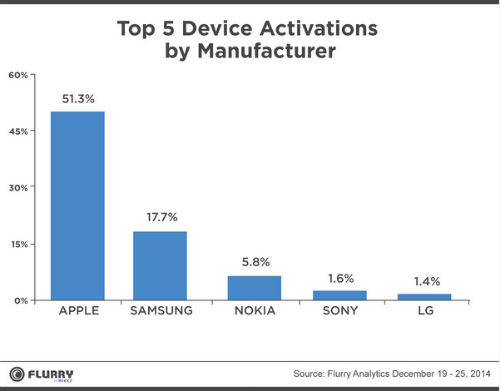 In its analysis, Flurry found that Apple accounted for 51% of device activations worldwide between December 19th and 25th. Samsung followed with 18% and Nokia accounted for about 6%.
Flurry also found that, unsurprisingly, Christmas day also sees the most app downloads of the year. This year's Christmas downloads were two and a half times the daily average over the first three weeks of December.
Clearly the enormous demand for the iPhone 6 and 6 Plus are responsible for Apple's success, and that demand is stronger than ever and growing, despite the fact that they launched over three months ago. A recent survey by investment firm Piper Jaffray found that demand for Apple's flagship handsets is higher now than it was pre-launch. 40% of respondents (out of a pool of 1,004 consumers) said they are interested in purchasing one of the new iPhone models. A pre-launch survey found 33% were interested while a post-launch survey found that 37% were interested.