The roller coaster (albeit a tame one) continued last week as Apple (NASDAQ: AAPL) shares once again fell several dollars. Stocks opened the week at $112.60 and closed on Friday at $105.99. It doesn't make all that much sense considering many analysts are expecting record numbers when Apple discloses its Q1 FY 2015 earnings next Tuesday.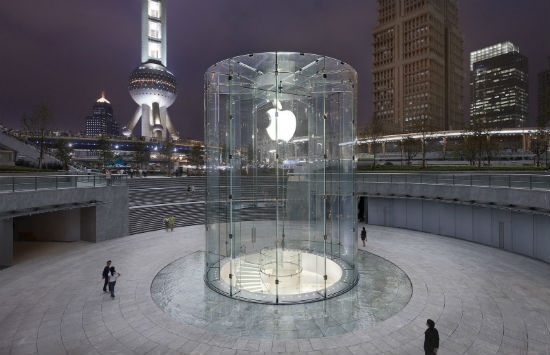 The drop was due, in part, to Japanese securities firm, Mizuho, downgrading Apple from buy to neutral. The firm's analysts believe the Apple Watch will disappoint and that iPhone sales will drop off faster than they have in previous years.
Other brokerages, however, have been raising their target prices for Apple on a weekly basis for months now, and last week proved no different as RBC Capital raised its target price to $123, up from $120. The move was prompted by higher than expected iPhone 6 demand. Analyst Amit Daryanani offered an upside scenario where shares could reach as high as $135.
Bank of America disclosed last Thursday that 800,000 of its customers have enrolled in Apple Pay since its launch in October, adding a total of 1.1 million credit cards.
Apple Retail SVP Angela Arhendts discussed the company's aggressive expansion strategy in China with the county's
Xinhua news agency
. According to Arhendts, Apple plans to open five new retail locations over the next few weeks, bringing the total to 20. CEO Tim Cook plans to increase that to 40 within the next two years.
Google may be bolstering its mobile wallet to compete with Apple Pay. The tech giant is apparently in talks to purchase Softcard, a mobile payment system (formerly know as ISIS) that was started by carriers AT&T, Verizon and T-Mobile in 2010.
Apple and Google agreed on Thursday to pay $415 million in the anti-poaching lawsuit that was filed over a year ago.
According to iBooks director Keith Moerer, Apple's decision to pre-install iBooks on both iOS 8 and OS X Yosemite paid off in an average of 1 million new customers a week since mid September.