Submitted by Frank Macey on
Hot on the heels of Microsoft's Outlook email launch, the company has announced new features in the iOS Office suite. Word, Excel and PowerPoint apps have added Office Online integration for document viewing and editing, as well as the native iCloud file picker.

This means users of Apple's iCloud storage will have access to Office documents, spreadsheets and presentations across any iOS device or Mac connected to iCloud. On iOS 8 devices, iCloud joins Microsoft OneDrive and Dropbox in the Places menu of each Office app.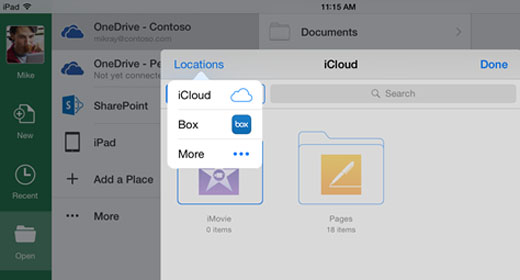 When it comes to Office Online, Microsoft states that, "third-party cloud storage providers can natively integrate into the Locations picker in the iOS Office apps". Ultimately the company seeks to make Office documents accessible from anywhere, no matter which platform, mobile device, or cloud storage service is used.
Microsoft Office seems to be taking on the world of iOS head on lately. This is after years of
speculation and doubt surrounding the release of Office for iPad
. From the Office Blog:
Today's announcements are just one more step on our continuing journey to open up Office in new ways for our customers and partners. Living in a cloud-first, mobile-first world is all about having the flexibility to get things done from anywhere and on any device. And these exciting, new features will make it easier than ever to use Office with virtually any combination of apps, platforms and cloud storage services."