Submitted by Marshall Walker on
The developers behind the suite of sarcastic apps such as CARROT Fit and CARROT Alarm have released a new weather app for iOS devices. CARROT Weather promises to deliver "eerily accurate" weather forecasts with a "twisted" sense of humor, according to the official App Store description.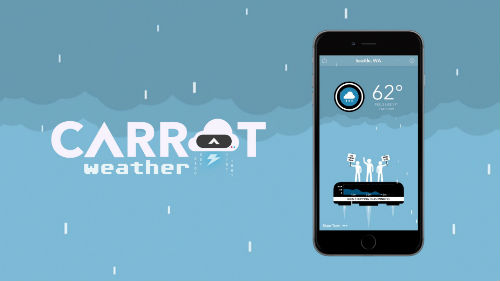 For those not familiar with CARROT, she is a mean spirited A.I. who enjoys insulting her "meat bags" when they fail to meet their daily calorie goals or when they won't get out of bed in the morning. For the new weather app CARROT uses forecast.io's weather data and more than 2,000 spoken lines to deliver 24-hour and 7-day forecasts. The app also features over 100 fun weather animations, different weather themes, 21 secret locations to unlock and a Today view widget.
CARROT Weather is available now for special discounted launch price of $2.99. The app supports all devices running iOS 8.0 or later. It is not recommended for sensitive people or users under the age of 12. You can download CARROT weather and other CARROT apps on the Apple App Store.