Submitted by Sammy Snyder on
Prison Life RPG is the type of title hardcore gamers say they want for iOS devices but ignore because it looks like a freemium game disguised as a premium title. First let me say that the game features no in-app purchases or timers. All 100 playable prisoners and items in the game can be unlocked without spending any additional real world money. This is the type of game that people who hate freemium titles should support and it is worth every penny if you enjoy simulation / survival titles.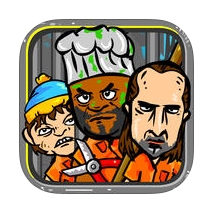 In Prison Life RPG you must bribe, fight, and charm your way through daily prison life until your are paroled or hatch an escape plan. This is easier said than done as there are a lot of factors you have to consider. To survive you need to keep your Happiness, Energy and Health levels from dropping to zero. There are a lot of ways to stay healthy but there are also a lot of hazards that will make you sick or unhappy. You begin each day in the yard where you can mingle with other inmates to try and build relationships, buy items from various shops and play games like chess or basketball if you have the required skill.
As each day progresses you will need to navigate the lunch room, shower and inside the prison before you make it back to your cell to sleep, write in your journal (save the game) or enjoy the girly magazine you bought with the money you earned from your job. Everything you do in the game from gossiping to where you sit at lunch affects your day and three life meters. Dropping the soap in the shower will cause you to lose happiness, and even your dreams can affect your mood.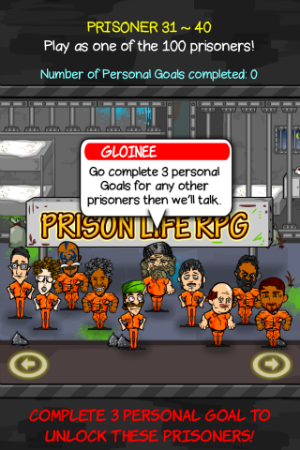 Some tasks like watching TV only require a bribe to complete while others require a spin on a slot machine. Each character has special skills that give him a bonus in certain situations. For example, the clown gets a +3 Joker bonus when he is spinning to make friends, but he sucks at beating people up.
There is so much going on in this game that only paying $3.99 feels like a crime. There are over 100 prisoners to unlock, 18 skills to learn and 126 nicknames/achievements to earn. You can make a daily phone call to your girlfriend/wife/kids, take the fall for a murder (which will make you lose your chance for parole), bet on boxing matches and even end up in solitary confinement or the ER.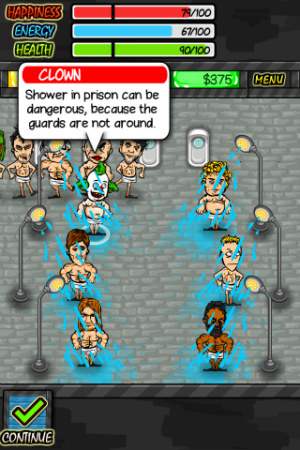 The best part of the game is you will want to play it more than once. Not only does it take a few attempts to learn, but there are multiple endings that are saved in your Ex-Prisoner History. This makes the game fun even if you do poorly because the stats for every prisoner are saved in his personal file. Here's the history for my first attempt at the game: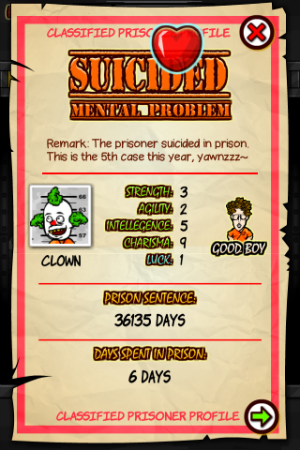 Prison Life RPG is available now on the App Store for only $3.99. It supports all devices running iOS 6.0 or later. $4 will buy you hours of entertainment without having to wait for timers, watch ads or spend additional money. Prison Life is highly recommended to fans of RPG / survival and resource management games.