Submitted by Anders Batten on
T-Mobile CEO John Legere announced new initiatives for businesses and consumers at its Un-carrier 9.0 event in New York on Wednesday. The company explained its plans to simplify wireless pricing with its new "Un-contract" initiative and said it would pay "outstanding device payments" for new customers who drop their current carrier and switch to T-Mobile.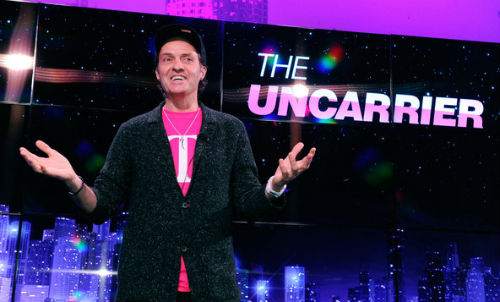 T-Mobile promised its current subscribers that their Simple Choice rates would never go up as long as they remain customers, and that users with unlimited 4G LTE plans will be able to keep the same rates for a minimum of two years. T-Mobile hopes to put an end to the practice of offering short-term promotions to woo customers, just like it did when it ended long-term contracts with its Un-carrier initiative in 2013.
"We're the Un-carrier. Everything the carriers do, we un-do," said Legere in a press release. "The other guys have been throwing out all kinds of desperate, short-term promotions to suck you in and lock you down − only to jack up rates later. We're not playing that game. The Un-contract is our promise to individuals, families and businesses of all sizes, that − while your price may go down − it won't go up."
The Un-contract promotion will automatically kick-in for all existing T-Mobile subscribers on March 22nd.
T-Mobile also announced operation Carrier Freedom to help free the "29 million people currently locked in to a device payment plan or lease with the old-school carriers." The company will now pay up to $650 towards any AT&T Next or Verizon Edge leasing plan when a customer ports their phone number over to T-Mobile or trades in a device and signs up for a new T-Mobile data plan.
You can learn more about both Carrier Freedom and The Un-Contract at TMobile.com.