Submitted by Fred Straker on
When it comes to iPhone photography apps, Camera+ is one of the most powerful and versatile of the bunch. A large feature set comes packaged inside a slick user interface that's easy to use. The goal of Camera+ is to improve iPhone photos for everyone from casual users to photography enthusiasts. An update to version 6.2 was launched today.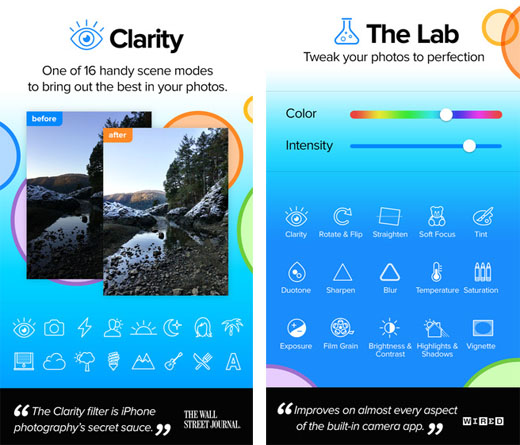 Those who already own Camera+ can grab the update free. Others will have to drop $3.99 on the App Store to see what all the fuss is about. New features added to Camera+ make the app an even more convenient way to capture and share photos with the iPhone.
iPhone 6 and iPhone 6 Plus users will enjoy the fact that Camera+ now supports native resolution on these devices. This means instead of automatic scaling, the user interface of the app is designed specifically to be optimized on larger displays. Developer tap tap tap describes the change as a "pixel-perfect, custom UI designed specifically for your megaphone".
Another major update brings a Today Widget with several features to the app. Camera+ can now be accessed directly from the lock screen by invoking Notification Center. Besides providing an easy way to launch Camera+ from anywhere in iOS, the widget also delivers Photo Tips and Photo Quotes of the Day in the Today view. Any of these three Notification Center Widgets can be enabled or disabled individually. Turning on the widget is as simple as tapping the Edit button in the Today view and selecting Camera+.
Two additional features of the Camera+ 6.2 update include an advanced white balance control, and direct Instagram sharing. 7000 degrees of kelvin white balance can be manually adjusted when the presets just aren't enough. When the shot is perfect, sending the image to Instagram is built right into the app, which saves time.
Needless to say, tap tap tap has also implemented bug fixes in the latest release. For those looking to improve their iPhone photography, or take more manual control of the camera, Camera+ is a top selling app in the category with 10 million copies delivered. Version 6.2 of Camera+ weighs in at 59.1 MB and requires iOS 7.0 or later to install.