Submitted by Fred Straker on
The iPhone 6 keynote presentation at Flint Center is coming up fast. Speculation and last minute leaks have been piling up for weeks, with the next generation camera being one area of interest. Apple routinely touts the lens improvements and low-light capabilities of the iPhone camera. Now, parts photographed by Feld & Volk show optical image stabilization (OIS) could be entering the mix.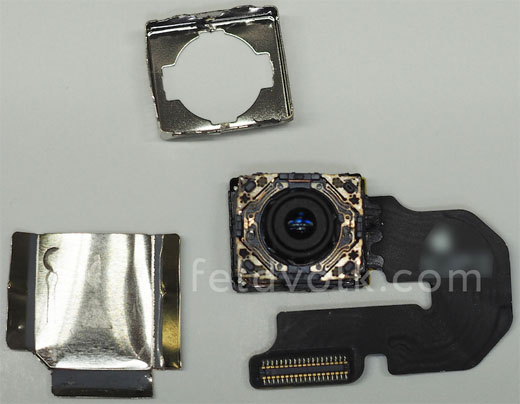 OIS works by allowing the components to physically move, in turn sharpening the image by reducing vibrations and other movement at the image sensor. The rear camera parts pictured here are said to be from the 5.5-inch iPhone 6. It remains unclear whether or not the smaller 4.7-inch iPhone 6 model will also feature OIS. Compared to the current iPhone 5s camera module (below, right) the new part is larger and flatter.

Despite the thinner profile of the iPhone 6 iSight camera, other leaks have pointed to a protruding camera lens on the next iPhone. This is a similar design to the iPod touch, which indicates the iPhone 6 will shave more thickness off the iPhone 5s profile. Apparently, the leaked part shown in these photos does not fit inside the 4.7-inch iPhone 6 shell acquired by Feld & Volk.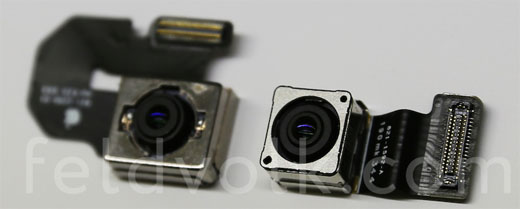 All of the rumors will be put to bed tomorrow at 10AM Pacific time, when Apple begins its media event at
Flint Center
. The change of venue away from Yerba Buena in San Francisco points to a significant announcement, of which OIS on the iPhone 6 will be only a small part. Apple is expected to reveal both iPhone 6 models along with a wearable device and
NFC payment system
. Steve Jobs revealed the original Mac at the Flint Center in 1984.