Submitted by Frank Macey on
Flint Center for the Performing Arts in Cupertino has seen two historic Apple events, and now a third is scheduled for September 9th at 10am Pacific Time. The original Mac was launched at this venue in 1984, and the iMac was revealed in 1998. Speculation is rampant that Apple has something big up their sleeve for 2014.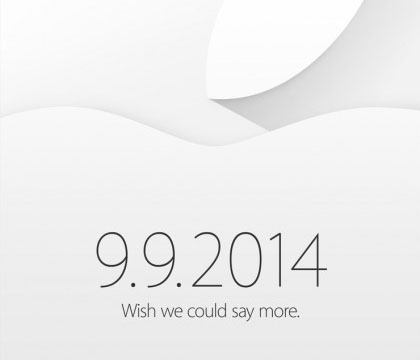 Invitations have been delivered to selected members of the media, confirming the date, time and venue but not much else. With a tag line stating "We wish we could say more," the fact that Apple is not using its preferred spot at the Yerba Buena Center in San Francisco this time around speaks volumes. While many agree a wearable device such as the iWatch is on its way, analysts are all over the map when it comes to predicting a timeline for release.
In any case, leaks have confirmed that two larger iPhone models are in the works, with curved edges and a thinner profile. The iPhone 6 could sport a 4.7-inch display, with another model rumored to include a phablet-class 5.5-inch display. Besides supporting multiple improvements in iOS 8 such as Healthbook and camera improvements, the iPhone 6 is expected to support NFC wireless payments.
Jim Dalrymple at The Loop has photos of construction activity at the Flint Center, where Apple is constructing a building on campus. The center itself has a much larger capacity than the Yerba Buena, with capacity for over 2,400 people to attend. Run-of-the-mill Apple events at Yerba Buena can only house between 700-800 people. Stay tuned for more information as it becomes available.