Submitted by Frank Macey on
Rumors of two larger iPhone models launching later this year have been circulating for months. As mass production begins, photos of parts are starting to leak on Chinese websites such as Weibo. Two purportedly independent leaks seem to confirm a 4.7-inch diagonal iPhone 6 in the works. The white bezel below, with proper home button and earpiece cutouts, shows a larger size than the current model iPhone in black.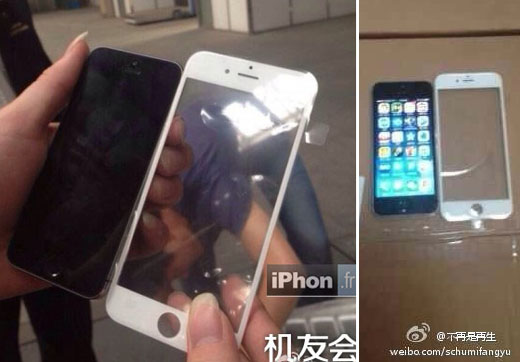 Additionally, these iPhone 6 parts point to displays with the same aspect ratio as the existing iPhone 5 and 5s. Whether or not the new display carries increased resolution remains to be seen, however the matching aspect ratio makes sense from an app development point of view. Changes to the display can require significant work for developers to accommodate a new device.
Besides the front bezel, iPhone 6 digitizers and batteries have also been photographed. The leaked battery photos shown at nowhereelse.fr indicate an internal redesign as well as a larger overall battery size. The bigger battery also points to a larger display size, which would require more power than existing screens.
As if leaking iPhone 6 parts direct from the factory weren't enough, Cult of Mac highlights iPhone 6 chassis schematics and manufacturing mold photos that were posted to Weibo. With manufacturing in full swing, analysts expect the 4.7-inch iPhone 6 to launch sometime in the third quarter of this year.
An even larger model falling somewhere between the iPad mini and the 4.7-inch iPhone 6 could sport a display with up to 5.7-inches diagonal. According to industry watchers, this iOS phablet will launch some time after the smaller iPhone 6 due to manufacturing delays. So far, bezel leaks have only indicated black and white options for the next generation iPhone. With talk that the
iPhone 5c will be discontinued
, only time will tell what smartphone colors Apple plans to offer this fall.