Submitted by Marshall Walker on
There are a lot of apps on the Apple App Store that help you declutter your photo library, but most require that you to personally review every image before deletion. Gallery Doctor aims to speed up this process by automatically locating your bad photos so you can easily delete them. This is a great tool for iPhone and iPad users who snap a lot of photos, but don't have time to individually inspect each image.
Gallery Doctor divides your mistakes into three categories: Bad Photos, Similar Photos and For Review. In the Bad Photos section you can peruse all your dark and blurry photos marked for deletion by the app. To save a photo just simply tap its thumbnail to remove the trash can icon and it won't be deleted when you send the other marked images to the trash.
The Similar Photos option locates all your duplicate photos and selects the best of the bunch. From here you can once again tap the thumbnails of the images you want to keep, then hit the "Clean Group" button to delete all the other photos. The Gallery Doctor will always double check with you before deleting any images, in case you have any second thoughts or made a mistake. Even if you do delete an image by accident while using the Gallery Doctor, you can always restore it from the Recently Deleted folder in your Photos app.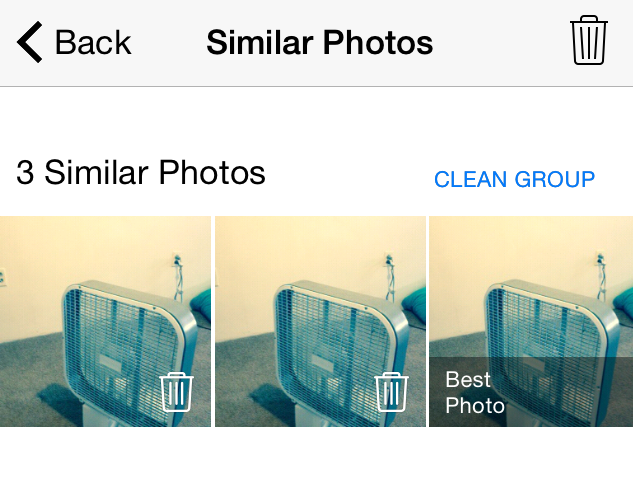 The Review section allows you easily flip through all the uninspired photos on your camera roll. Just swipe left or right to keep or send an individual photo to the trash. When you're finally finished weeding out all the bad apples in your photo library, Gallery Doctor will tell you how many photos you deleted and how much space you have saved.
Gallery Doctor
is available for $2.99 on the
App Store
. It supports all devices running iOS 8.1 or later. I noticed a lot of the customers complaining about the app crashing in the review section of the App Store, but I tested
Gallery Doctor
on an older iPhone 4s and it worked perfectly. However, I did not have a lot photos stored on my device when I tested the app. I assume the more photos you have the longer it will take for the app to search your library, which means there is more time for things to go wrong. The app has also been updated to version 1.0.1, which fixed "most of the crashes and bugs" that affected some users, according to the release notes.