Submitted by Fred Straker on
With every generation of iPhone comes camera improvements, as Apple continues its tradition of high-quality imaging and display. The iPhone 6 and iPhone 6 Plus, while not changing the game completely, feature substantial improvements over the iPhone 5s camera. The raw number of megapixels has not increased past the 8MP seen in the 5s. However, Apple has improved the image sensor and added several still and video capabilities.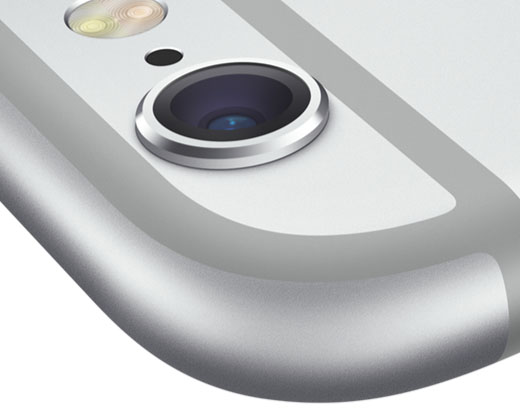 Rumors that Apple would increase the number of megapixels on the iPhone 6 did not pan out. Specific components were even cited, however the 13 megapixel Sony Exmor IMX220 image sensor did not make the cut in the production iPhone 6. Improved Face Detection, a protruding lens ring, and a redesigned circular True Tone flash are all new to the iPhone 6 and iPhone 6 Plus. But what else has been changed in the latest iSight cameras?
Stills
Autofocus with Focus Pixels
Focus pixels provide more information about the image to the new Apple-designed image processor. This speeds up auto focus and can provide a sharper image.
Exposure Control
Slide up or down in the Camera app live preview and the iPhone 6 will adjust exposure. This feature will lighten or darken the image appearance by up to four f-stops for more creative control.
Panoramas Up to 43 Megapixels
Higher resolution panoramic shots are possible with the iPhone 6, making 360 degree iSight images larger than ever.
Optical Image Stabilization (iPhone Plus only)
Low light photography is improved even more with optical image stabilization (OIS) on the iPhone 6 Plus. The technology works by moving the lens to counteract vibrations and snap a sharper image in light-deprived situations. Software also fuses the best of long and short exposure images in a scene.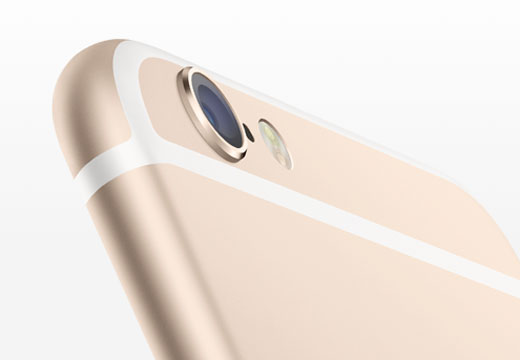 Video

60 fps Video Recording 1080p
This faster frame rate option doubles the normal 30 frames per second (fps) recording speed. Video shot at 60 fps can be smoother and sharper as more information is recorded.
240 fps Slow Motion Video
Apple ups the normal 120 fps slow motion speed found on the iPhone 5s with double the speed on the iPhone 6 and 6 Plus. This means that slow motion videos can be shown at 25 percent of normal speed.
Continuous Autofocus
The Focus Pixels, which improve autofocus speed and clarity in still images, are also utilized to automatically adjust focus while video recording is in progress.
Cinematic Video Stabilization
Apple promises smooth, steady shots when recording video in motion thanks to Cinematic Video Stabilization.
Last but not least, the FaceTime camera on the front of the iPhone 6 and iPhone 6 Plus also has new specs. The new front-facing camera features a new sensor and aperture, capturing 81 percent more light than the iPhone 5s. Better face detection and burst mode can also be used with the new FaceTime camera configuration.