Submitted by Anders Batten on
Widget Weather has been updated with Apple Watch support. The third-party weather service, which allows users to check forecasts from the Today panel of their iPhone, now features normal and Glance view options for Apple's wearable device. Apple Watch users with the widget installed on their iPhone can get 3-hour weather updates from the normal view, or see the current weather and 6-day forecast by glancing at their wrist.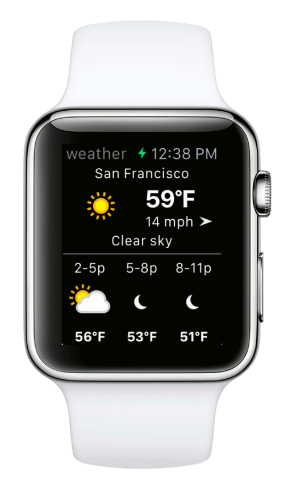 The Widget Weather iPhone app only provides settings for the actual widget. From the app users can choose different fonts, weather icons and languages, and customize their weather forecast using simple on/off switches. The widget uses GPS and data from openweathermap.org and met.no to deliver accurate weather information based on your location.
Widget Weather is available for $1.99 on the Apple App Store. The app supports all devices running iOS 8.0 or later. Once the app is installed you will need to enable the widget from the Today view Edit section. Just swipe down anywhere on your display to pull down the Today view and tap the Edit button at the bottom of your screen. This will provide you with a list of available widgets installed on your phone that you can enable or disable.