Submitted by Marshall Walker on
Eyes Wide Games today revealed that its new title, Watch This Homerun, will join Robot 5 Studios' Football Twos, as one of the first two sports games released for the Apple Watch. The goal of the game is to hit as many home runs as possible in a short amount of time.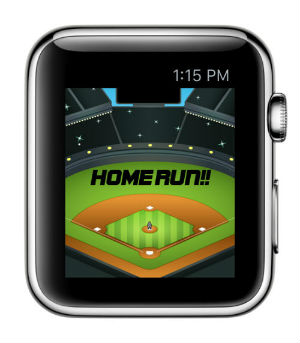 In the game, players will be able to blast fastballs, curveballs and changeups out of the park by using simple one-touch controls. Players will also be able to complete full games in 10-15 seconds, and keep track of their achievements and personal stats via the official iPhone companion app. Watch This Homerun will be available later this month when the Apple Watch is officially released.
Eyes Wide Games joins a quickly growing list of developer studios designing games exclusivity for Apple's wearable device. Everywear Games recently announced its first smartwatch title, an RPG called Runeblade, and Robot 5 Studios is currently developing three short games to be played on the Apple Watch.
Other developers are also busy turning already existing iPhone games into Apple Watch apps. You can see a list of announced Apple Watch games here.