What games are available for the Apple Watch?
Here's a list of available games for the Apple Watch: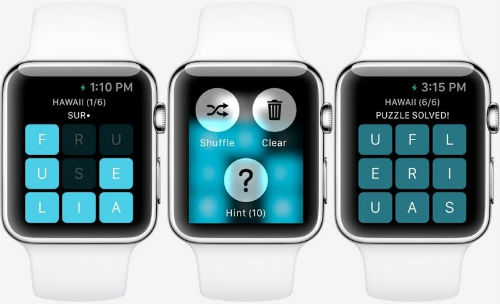 Letterpad (Free) A nine letter word game from the creators of Tiny Tower (trailer). Update: Letterpad is now available on the App Store
BlastBall Duo (???) A condensed 1v1 multiplayer version of BlastBall MAX.
Elementary Minute ($0.99) A true or false quiz game (trailer).
Hatchi - A Retro Virtual Pet ($1.99) Owners of the iOS Hatchi app will be able to feed, clean and play with their pet on their Apple Watch.
Fitness Spades (Free) Perform exercises based on cards you select from a digital deck.
Watch This Homerun (???) Knock as many pitches out of the park with the touch of a finger before the game is over.
FIFA 15 Ultimate Team (Free) Version 1.4.4 of FIFA 15 features Apple Watch support. "Manage your top 5 player transfers and get instant notifications right on your wrist."
Runaway Frog ($0.99) Help a frog cross the street. App store link
Watch Band ($0.99) Play an assortment of instruments like guitars, drums, loops…even an 88 key piano. App Store Link
Modern Combat 5: Blackout (Free) MC5 has been updated with the ability to change your character and weapon, sign up for events and receive important notifications on the Apple Watch.
Asphalt 8: Airborne (Free) Updated with Apple Watch support. App Store Link
Spy_Watch ($1.99) Be the head of your own spy agency in the brand new game designed specifically for the Apple Watch. App Store Link
Watch Quest! Heroes of Time (Free) Use your iPhone to explore your kingdom, and your Watch to complete your Hero's journey in this adventure RPG. App Store Link
Battle Camp (Free) The monster battling app now features an Apple Watch companion.
Farm Time (Free) Grow and tend to your farm with just a few taps whenever you have the time. From comedy carrots to ticklish tomatoes, there's loads of fun to be had in the farmyard. App Store Link
Update (03/18/2015): The "world's first wearable game studio" has been announced.
Update (03/27/2015):
Rules! is the first
Apple Watch game
.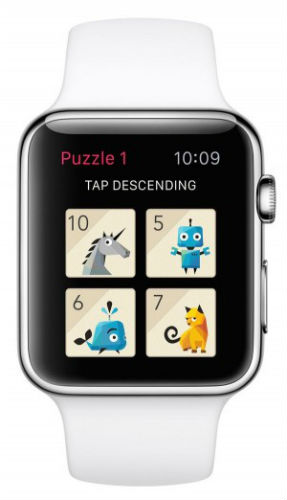 Rules! for Apple Watch:
"Brain workout mini game with daily goals for Apple Watch with leaderboards and statistics on your iPhone."
Update (04/10/15): Everywhere Games has announced their first title called Runeblade.
"Created from start to finish as a smartwatch original title, Runeblade is a casual take on adventure games and is crafted to provide the optimal gaming experience on Apple Watch. Runeblade combines RPG elements with a simple pick-up-and-play design that increases in depth and complexity over days, weeks and months of gameplay.
Runeblade will be available in April.
Screenshots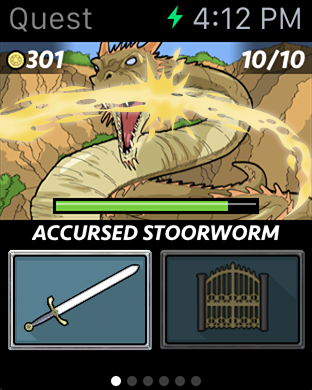 Robot 5 Studios announced they're building a suite of Apple Watch games that can be played in 10-20 seconds. They include: Berry Quest, Blackjack Mini and Football Twos.