From the creators of AppAware, WatchAware is a site dedicated to all things Apple Watch. Their latest feature provides an interactive glimpse of many apps that will be available on Apple's soon to be released wearable. It gives you a good idea of how many popular apps, including Twitter and Facebook, will operate and appear on the Apple Watch display.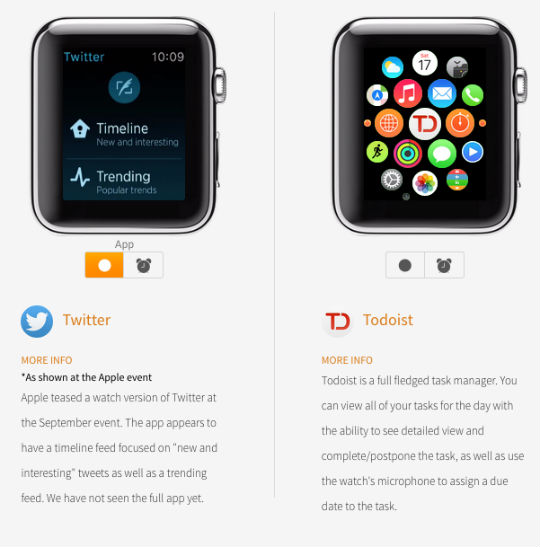 The previews include a brief description of each app and, varying by the app, one to three buttons: App, Glance and Notification. Clicking on App will show you an animated preview showing the app's various screens. Glance will show you one screenshot of the app and Notification, as you might have guessed, will
show you what the app's notifications look like. The interaction is limited; you can click on the app icon on the display to start the preview, rather than clicking on the buttons. You can also click the digital crown to return to the home screen.
WatchAware currently has previews for 31 apps covering a variety of categories, with more to come. In the health and fitness genre you have training apps such as Biceps, Fitness Spades and Run 5K, for the marathon-minded. Under productivity you have BetterWorks and Todoist among others. Social apps include Facebook, Twitter, Pinterest and Pinner for Pinboard. PortfolioWatch and MoneyWiz fill out the financial category. There is a preview for MLB.com and one for a handy app called Slopes for alpine enthusiasts. Then, in a category of its own, there is FartWatch. It serves as a remote whoopee cushion that allows the user to send a variety of effluvial sound effects to his/her paired iPhone.
The Apple Watch launch date will almost certainly be announced at this coming Monday's (March 9) "
Spring Forward
" event at the Yerba Buena Center for the Arts in San Francisco. We will likely get some more specs and see some more app previews at the media event as well.