Submitted by Chad Shmukler on
Apple has released their latest version of the iPhone operating system/firmware, version 2.0.1. Although the introduction of OS 2.0 has ushered in a whole new era of the "iPhone experience", thanks to the addition of major new features like the iPhone AppStore and widely expanded enterprise support, it also brought with it a handful of bugs which have negatively affected many a user.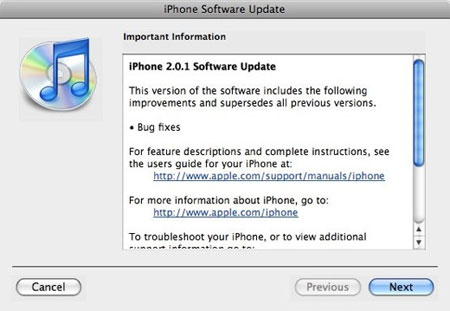 This latest OS release is aimed at eliminating those bugs. In typical Apple fashion, however, just what bugs were fixed is somewhat up in the air. Apple's official release notes for 2.0.1 specify only that "bug fixes" were included, without specifically referring to anything.
Initial rumors, upon release of the new firmware, that speculated the only purpose of the release was to nullify newly released
jailbreaks for OS 2.0 seem to have been swept aside as a result of the fact that the vaguely referred to "bug fixes" are actually present and accounted for.
Thus far, the following bug fixes/improvements have been attributed to iPhone OS 2.0.1:
eliminated lag issue on Contacts screen
keyboard lag reduced/eliminated
faster iPhone backups via iTunes
faster overall Application loading/performance
If you have noticed any other changes with firmware 2.0.1, please let others know by posting a comment.
For those of you that have jailbroken/pwned your iPhone running OS 2.0, user feedback has indicated you'll need to wait for the time being if you want your phone to remain jailbroken. The current versions of Pwnage and WinPwn do not work with iPhone OS 2.0.1. Attempts to upgrade jailbroken iPhones running OS 2.0 will result in an error/bricked phone that will require a restore.