Submitted by Thomas Estilow on
So the downloaded apps on your iPhone stopped working. Rebooting or resetting all settings does nothing. Suddenly you notice your music is gone. What is an iPhone owner to do? Now that the dust has settled on this particular bug many workarounds have been suggested. According to Steve Jobs himself, Apple won't have a fix until September. If you can't wait that long to restore the full functionality of your iPhone, then continue to read.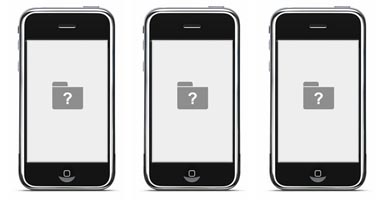 Speculation about this bug is rampant in online forums. The workaround I've used with success has been described as extreme. I suffered with the app and music problem on my iPhone 3G (2.0.1) and decided I was going to deal with the issue once. So instead of trying many of the gentler methods I attacked the problem with gusto. My phone's performance has improved noticeably since the procedure, which included a 2.0.2 firmware upgrade.
1) Sync contacts and calendars. Remove all apps from the phone during the sync. You can print out a list of Applications from iTunes before you delete them, or look in your iTunes account purchase history for this information.
2) Disconnect the iPhone and erase all content and settings. This can be painful. You will lose call records, texts, notes, WiFi networks, YouTube bookmarks, Maps bookmarks and Safari bookmarks. Webclips will also disappear. This takes a while so now you can work on your computer.
3) Be sure the iPhone applications in iTunes are all deleted. Sign out of the iTunes Store and deauthorize your computer. If you're running iTunes 7.7.1 uninstall the program. Your music will not be affected. I'm using Mac OS 10.4.11. Following the suggestions of Jamie Hosticka, I also removed the following files:
/System/Library/Extensions/AppleMobileDevice.kext
/System/Library/PrivateFrameworks/DeviceLink.framework
/System/Library/PrivateFrameworks/MobileDevice.framework
/Library/Receipts/AppleMobileDeviceSupport.pkg
/Library/Receipts/iTunesAccess.pkg
/Library/Receipts/iTunesX.pkg
4) Restart your computer and empty the trash. Download and install iTunes 7.7.0. Sign on to the iTunes Store and authorize the computer. Under preferences deselect check for updates automatically.
5) Connect the iPhone. Hold down the home and sleep buttons for a few seconds. The screen will go blank. Two seconds after the screen goes blank release the sleep button. Keep the home button depressed to invoke DFU mode. iTunes will prompt you with a window that it detects the phone in recovery mode then you can release the home button.
6) Set up like a new phone and install the latest firmware. Do not restore a backup.
7) While this is going on you can download some apps on the iTunes Store. Apps you have already purchased can be downloaded for free. Another culprit in this bug could be the number of downloaded apps installed to the phone. Some have suggested limiting the number of home screens to three or less to minimize problems.
8) When the device is finished setting up you can sync your contacts, calendar, playlists, and new apps. The more apps you have installed the longer the backup process will take. You may choose to skip the backup until you actually have data on the phone to back up.
The app crashing, music disappearing bug is pretty nasty. If this comprehensive workaround doesn't work for your iPhone then I'm not sure what will.