Submitted by Rex Chamberlain on
Apple's most recent major software update for iPhone has been out for a few months now, but many users are still unaware of how to take advantage of iOS 9's most useful features. Here are few to tips to help you get the most out of iOS 9.
Proactive Assistant
A highlight of iOS 9 is a feature Apple calls Proactive Assistant. The feature shows you suggestions of what you might need before you have to go search for it. Proactive Assistant works by using both your iPhone's location and app usage. For example, if you listen to music regularly, Proactive Assistant will begin showing you the option to open the Music app from the lock screen when you plug in headphones.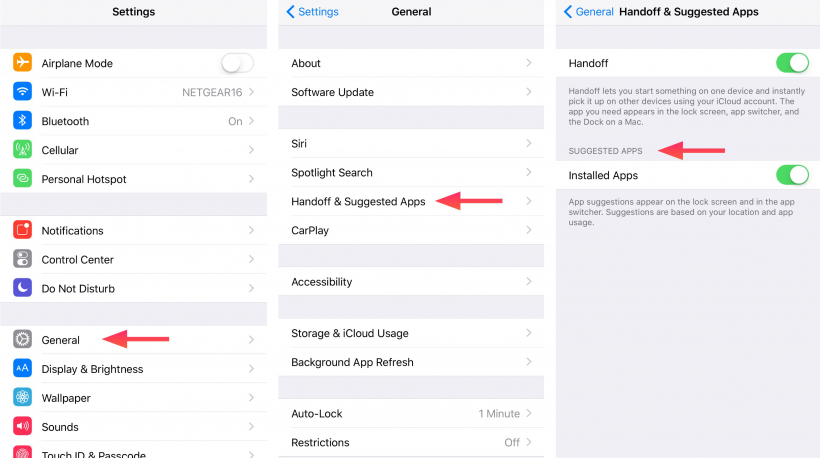 Also, if you include a location in a calendar event, Proactive Assistant will assess traffic conditions and let you know when to leave to arrive on time. To be sure the feature is turned on go to Settings -> General -> Handoff & Suggested Apps and make sure that suggested apps is switched on.
Spotlight Search
In iOS 9, Apple also included improvements to Spotlight Search. The changes make the iPhone's search function more full featured and allow you to search a much wider variety of information.
Rather than using Siri when you're in a quieter public environment, you can now get certain information straight from Spotlight Search. If you are a fan of a major sports team, you can type the team's name in the search bar and the score of their most recent game will show up. Another helpful use of the search bar is the ability to perform quick calculations like figuring out a quick tip, converting measurements and so on.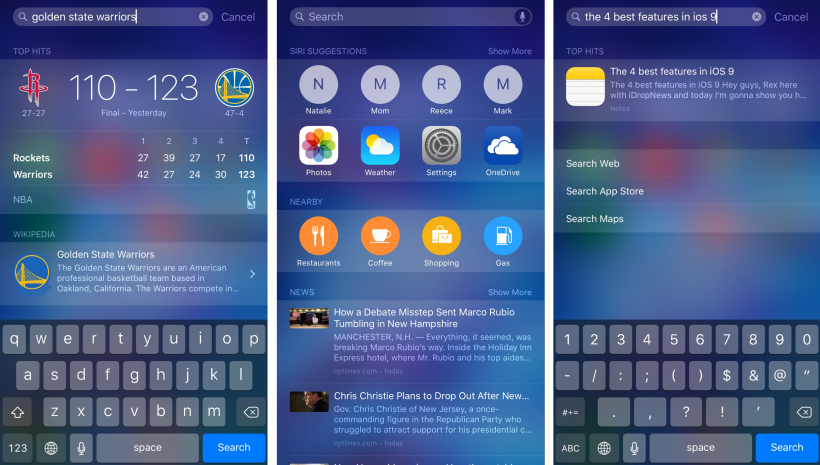 Apple has also tied Proactive Assistant into Spotlight Search to provide you information even before you go searching for it. You can view proactive suggestions by swiping left from the home screen. Here, you will be presented with suggestions like contacts and apps you may want to access along with nearby options like restaurants and gas.
Arguably the best improvement to Spotlight Search is being able to search apps for information. The app must support this capability, but plenty of developers have already updated their apps to take advantage of the feature. Say you are looking for a document you need to work on, you can simply search for it in Spotlight Search to get right to it.
Low Power Mode
You've probably noticed in iOS 9 that when your battery gets down to 20%, you get a notification asking if you want to go into Low Power mode. This is a handy feature Apple claims will give you an extra hour of battery life if its activated at 20%. Low Power mode will conserve power by limiting internet usage and disabling Background App activity among other things.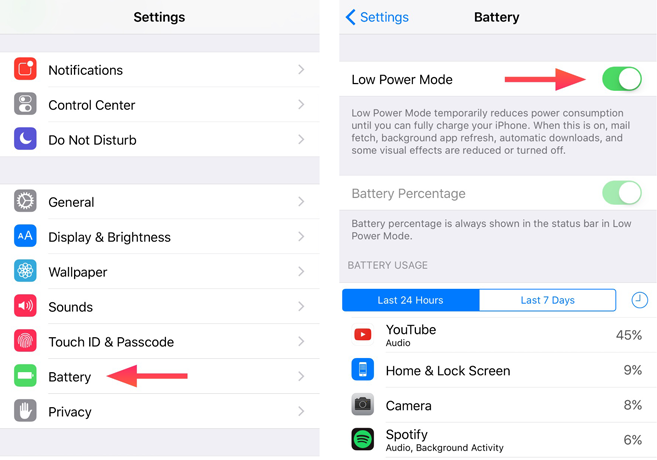 However, you can activate Low Power mode manually if you know you're going to need some extra juice later. Just go to Settings -> Battery and switch on Low Power mode.
Notes
Notes may not be the most exciting app, but iOS 9 brought the Notes app an excellent and much needed update.
You are now able to make checklists, add photos and sketch from right inside a note. There are also more style options than before like adding Titles and Headings along with the ability to make text either bold, italic or underlined.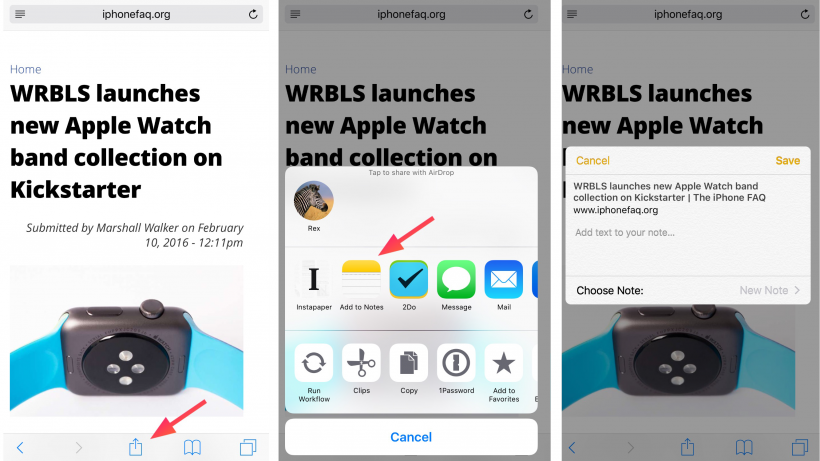 For more advanced users, you can add items to the Notes app from the share sheet anywhere on the iPhone. For example, you can add a location from the Maps app or a webpage in Safari by selecting the share icon from another app and selecting Add to Notes. If you add a webpage, a link is created in the note so that you can conveniently access the webpage again later.
There are many new features to discover in iOS 9, but these tips should give you a good idea of what iOS 9 has to offer.