Submitted by Rex Chamberlain on
The iPhone has revolutionized many aspects of our mobile lives, but maybe none more than photography. Apple loves to let the public know that more photos are taken on iPhones than any other device in the world. That said, it only makes sense that the iPhone would be one of the best places to edit photos as well.
Since the release of Apple's larger iPhones a few years ago, the displays have become an excellent canvas to edit photos. Also, because users already have a majority of their photos on the iPhone, it is also extremely convenient. While most professional photographers still rely on desktop applications, the iPhone can handle the needs of most average users.
However, the massive popularity of photography on the iPhone creates its own set of problems. The biggest issue is sifting through the hundreds if not thousands of photography applications available. To make your life a little easier, here are a few of the best photo editing apps available for iPhone.
AFTERLIGHT
Afterlight is an app which can handle shooting, editing and sharing photos, but it is most know for its excellent photo editing features. One of the primary draws to this application is how it manages to load a massive amount of features into a user interface that remains simple and easy to use.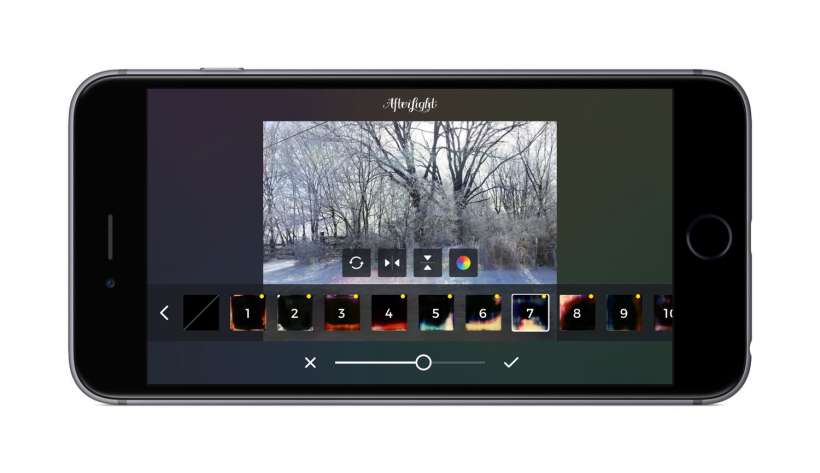 Some of the editing features offered by Afterlight include filters, textures, transforming tools and frames. Additionally, if you enjoy sharing photos after editing, the social features in Afterlight allow you to share photos just about anywhere.
For the person looking for a one stop photography app, you cannot go wrong with Afterlight. It is available for only $0.99 on the App Store. At this price it is absolutely a steal.
SNAPSEED
Snapped has become a staple on the iPhone. The app has stood the test of time (it's been around for a few years) and it boast over a million users for good reason. Many iPhone users may be turned off by the fact that it is owned by Google, however it's undeniable that Snapped is one of the best looking and easiest photo editing apps to use on the iPhone.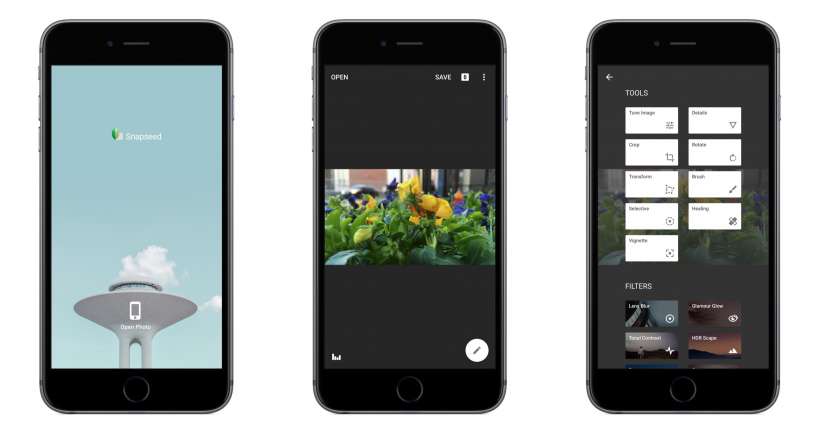 The user interface is gorgeous and minimalistic but similar to Afterlight, it still packs a host of editing tools including color adjustment and exposure correction. However, the special effect filters are second to none and have led to Snapseed's popularity. Another unique feature is selective adjustment which allows you to edit only certain portions rather than the photo as a whole.
The combination of unique features along with a user friendly interface make Snapseed a go to editing app for many iPhone users. The fact that the app is available for free on the App Store doesn't hurt either.
PIXELMATOR
The two apps covered above are primarily aimed at the general public. While Pixelmator is certainly accessible to anyone, this app is primarily aimed at power users. Pixelmator is a highly lauded photo editing app for Mac which was recently released on iPhone. What it is incredible is the team behind Pixelmator has managed to bring almost every feature available on the Mac app over to the iPhone.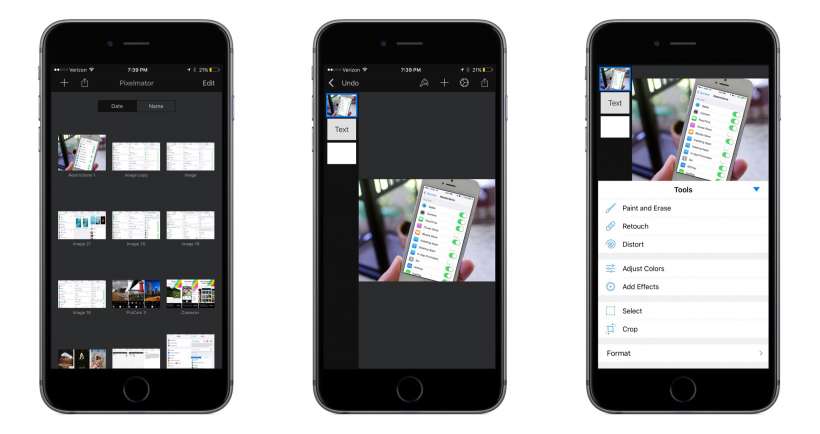 The amount of features available in the Pixelmator app is staggering and from a design perspective it looks like an app which could have been designed by Apple. There are a myriad of features available from simple exposure and color control to more advanced options adding different layers and retouching tools. A standout features in Pixelmator is the repair tool, which can impressively remove unwanted content from a photo such as a blemish on a face or even an animal in the background.
This app is also a deal and is available for $4.99 on the App Store. If you want to get as close to desktop power as possible on your iPhone, look no further than Pixelmator.