Submitted by Thomas Estilow on
Reports indicate Verizon Wireless and Apple may actually be discussing two new iPhone-like devices for launch as early as this summer on the Verizon network. One piece of hardware would be a simplified iPhone, with fewer features and a lower price, using CDMA network access.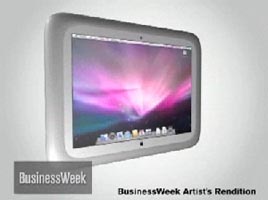 The second, and arguably more interesting device is somewhere between an iPod Touch and a netbook. Dubbed the "media pad" by a source talking to BusinessWeek, this entirely new Apple hardware would also have access to the Verizon Wireless network, and have the capability to make calls using WiFi.
The source claims to have seen the device, and had these comments. "We are talking about a device where people will say, 'Damn, why didn't we do this?' Apple is probably going to define the damn category."
Can Apple redefine the wireless hardware game again? Presumably, two new hardware offerings wouldn't violate the terms of Apple's exclusive agreement with AT&T to provide network service to iPhones. However, it's possible that any new offerings would eat into the iPhone's expanding market share, as consumers realize they have other similar options with Verizon, currently the largest wireless provider in the US.
The media pad sports a large touch screen, and interactive multimedia power made possible by relatively inexpensive SoC (system-on-chip) design. High definition video, photos, and music would be playable and interaction would take place using an iPhone-like interface with touch screen and gesturing.
Questions remain as to whether Verizon Wireless and Apple can make a deal regarding iTunes and AppStore software distribution.