Submitted by Bob Bhatnagar on
Parts suppliers and manufacturers have already been selected for a rumored Apple media pad, a touch-screen device larger than an iPhone with the functionality of a netbook. The tablet could hit shelves as early as September.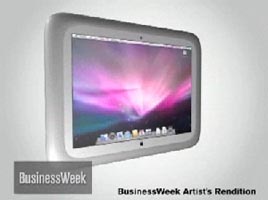 Foxconn, manufacturer of the iPhone and Apple's notebook computers, will make the new device. Wintek is providing a 9.7-inch multi-touch panel, and Dynapack International Technology is supplying the battery.
The entertainment industry is rumored to have signed off on new content such as detailed album art for the device, and expects Apple to go on a marketing blitz before Christmas to promote the hardware. A special App Store with high-quality software would come installed on the tablet.
Elements of the iPhone OS have already been adapted for a larger touch screen with similar multi-touch capabilities. The new Apple media pad would simultaneously compete with netbooks, Amazon's Kindle and portable gaming systems such as the Sony PSP and Nintendo DS.
Analysis predict the going price of an Apple tablet would be between $500 and $900, to bridge the gap between iPod Touch and MacBook pricing.
Netbooks are flying off the shelves. The small computers accounted for 20 percent of all notebooks sold in the first quarter of 2009. Entering the market with a sleek, touch-screen product, Apple could have a leg up on the competition with multimedia and AppStore functionality.