Submitted by Bob Bhatnagar on
More information has surfaced about the Apple media pad, a touch-screen device larger than an iPhone with the functionality of a netbook. Barron's reports on an unnamed "veteran analyst" who claims to have held the prototype device in his own hands.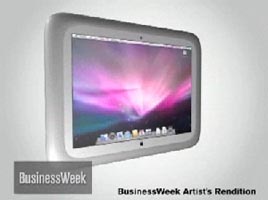 The source describes a slate-style computer only six weeks away from the final design stages that would be announced in September and hit shelves in November. Manufacturers of key components have already been described in industry publications.
Foxconn, manufacturer of the iPhone and Apple's notebook computers, will manufacture the new device. Wintek is providing a 9.7-inch multi-touch panel, and Dynapack International Technology is supplying the battery.
The cost of the device will be from $699 to $799. Other rumors have mentioned that entertainment industry executives have signed off on new content such as detailed album art for the device (a project named Cocktail), and they expect Apple to go on a marketing blitz before Christmas to promote the device.
The Apple touch tablet will play HD video, and according to the anonymous leak, the quality of the multimedia experience is stunning.
Questions remain as to whether or not a special App Store with high-quality software would come installed on the tablet, or if Apple would install a suite of products more like their existing notebook computers.
Other rumors circulating had Apple in talks with Verizon Wireless to provide mobile bandwidth for the touch tablet using their cellular network. This would presumably avoid any problems with AT&T's exclusive iPhone agreement.
The new Apple media pad would simultaneously compete with netbooks, Amazon's Kindle and portable gaming systems such as the Sony PSP and Nintendo DS. Netbooks are flying off the shelves. The small computers accounted for 20 percent of all notebooks sold in the first quarter of 2009.