Submitted by Bob Bhatnagar on
Next Wednesday Apple will announce several new products at its special media event in San Francisco. Pictured is the invitation the company sent out to selected media outlets today.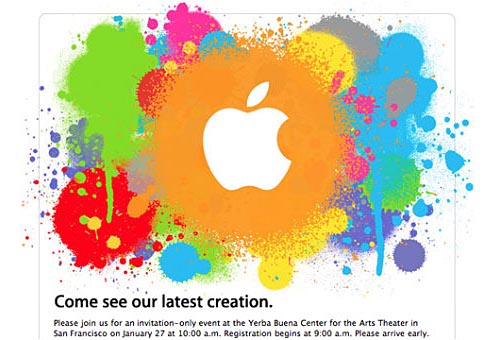 Sources inside Apple have reportedly confirmed that iPhone OS version 4.0 will be announced along with a new touch screen tablet computing device. In addition, Apple will be announcing iLife 2010 software that will support multi-touch.
The Apple event takes place at the Yerba Buena Center for the Arts Theater at 10:00 AM Pacific Time. Rumors have been bouncing around the web that Steve Jobs himself will attend. Jobs is said to be directly involved in Apple tablet development.
The Wall Street Journal expects the tablet to have a 10 or 11 inch screen and go for $1,000. Other reports have confirmed the screen size, however anticipated prices for the device have ranged anywhere from $600 and up.
Selected iPhone developers have already been asked by Apple to produce versions of their apps for a screen much larger than an iPhone. Some believe the product will be called iSlate or carry the tag Magic Slate.