Now that spring is just about half way through, many have followed tradition and cleaned their homes, producing piles of junk and old clothes in the process. Thanks to online marketplaces like ebay and Craigslist, everybody is aware by now that items that once would have been tossed without a second thought can easily put some cash in their pocket. While everybody knows the aforementioned behemoths, there are many lesser known marketplaces that may suit the job better in some circumstances. So in the spirit of "one man's trash is another man's treasure," here are five iOS apps to help you sell your old stuff:
OfferUp
OfferUp is the self-described "biggest mobile marketplace for local buyers and sellers" and prides itself as being quick and easy, allowing sellers to post items from their iPhones in as little as 30 seconds. This app is designed for the local marketplace, letting buyers and sellers from the same community connect via an in-app messaging service. Like ebay, you have a profile and a reputation; unlike ebay, you don't have to fuss with shipping details since everything is local. Simply enter your zip and start looking at local listings. Like something you see, message the seller, walk or drive to get the item. The app is free and there are no fees for transactions because you get cash in hand (unless you arrange otherwise with the buyer/seller). The only caveat with OfferUp is that you will likely be meeting buyers and sellers in person, so use caution.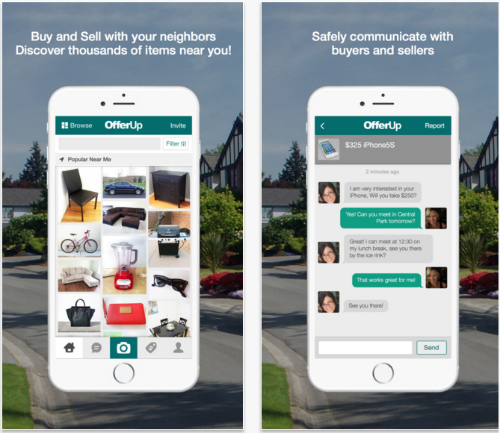 Gone
If you are looking for a virtually hands-off approach, Gone is the app for you. Gone only deals with consumer electronics, but it doesn't get any easier than this. All you have to do is snap a few photos of your item and upload them to Gone along with a brief description, then they do the rest. They will appraise the item and, if accepted, send you a box, bubble wrap and even packing tape. You pack it up and then give it to UPS (you will get shipping labels too) or, if you live in San Francisco, New York, Chicago or Austin, a Gone concierge will pick it up. They take care of the rest, listing it on any of a variety of online marketplaces including ebay and Amazon. Once your item sells you will receive payment via check or Paypal. On the downside you may get a lower listing than what you see on ebay (but you can reject their offer in the beginning) and they take anywhere from 7% - 15% of the proceeds. Of course that might be worth the convenience.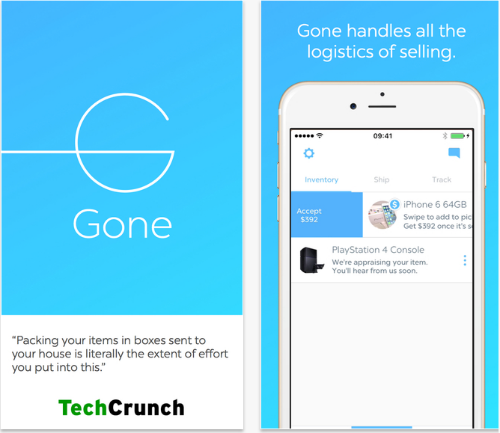 letgo
You may have seen a TV commercial for this one recently. letgo offers a highly visual, simple interface to buy and sell locally. Like with OfferUp, you can have an item up for sale in front of a large audience in 30 seconds. The app also offers a unique tool, the letgo Commercializer, that allows you to "create Hollywood-style commercials for your listings" and share them to improve your sales. In-app chat lets you communicate with buyers and sellers to ask questions and make arrangements, and the app is free, no transaction fees.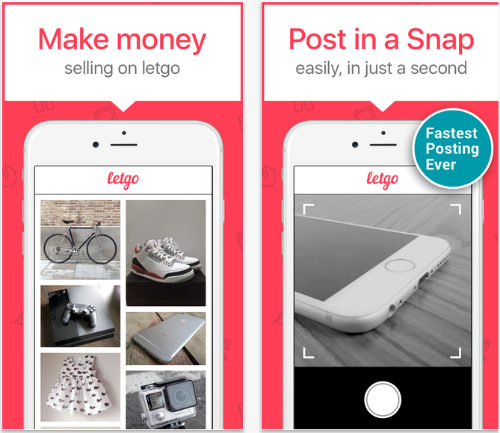 Vinted
If you are looking to sell clothes, Vinted is a good app to start with. Vinted sets itself apart from its competition by allowing users to swap items, no fee. Like other mobile marketplace apps, this one is simple and quick, just snap a few shots of your clothing, add details about size, etc. and list it. Buyers and sellers can connect with in-app messaging to ask questions and offer swaps. The buyer pays for shipping, which Vinted will take care of via a prepaid shipping label they will send to you. Once the item is received and the buyer is satisfied, you receive payment, minus a 19% fee.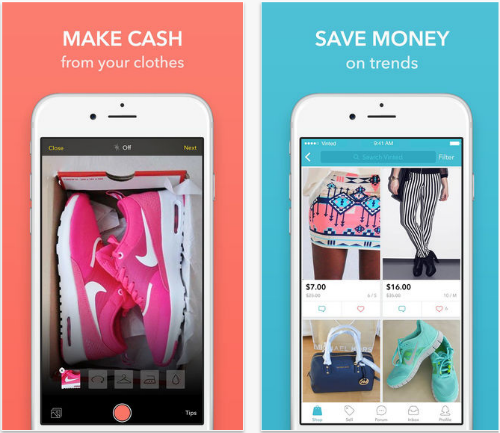 Bzar
Bzar is another marketplace that focuses on your local area. You can search your community for items and connect to the sellers via in-app messaging. Unlike OfferUp, Bzar allows you to use PayPal to conduct transactions, so you don't have to show up with cash in hand at the pickup if you are leery about that. Listing is as simple as uploading a few photos and a description and setting a price. If you are looking to buy, Bzar has efficient filtering that allows you to narrow down your results by location, price range and relevancy.