In an attempt to compete with other online news sources, Apple replaced its Newsstand with the News app in iOS 9. News pulls stories from RSS feeds and puts them together in a magazine style layout, making for a much more user-friendly experience than its predecessor offered. Although it was a vast improvement, the app hasn't quite gained the traction Apple wants, thus the new round of improvements found in iOS 10. Along with a new app icon and subtle aesthetic changes like including the date and local temperature at the top, the latest incarnation of News features a more customizable For You section, notifications for breaking news and access to paid subscriptions. Here's how to use these new features:
For You
As the title implies, the For You section is where you personalize your news selection. If you aren't familiar with the News app, it assembles various news stories into a "front page" based on interests and channels that you define. To set your interests, open News and tap on the Explore button at the bottom. From there you can browse by category and select favorite channels and interests by tapping the "+" button. For example, you can go to the Science & Technology section and choose a specific channel such as Popular Science or a general topic like Astronomy, which will include articles from many different publications. You can choose as many as you want.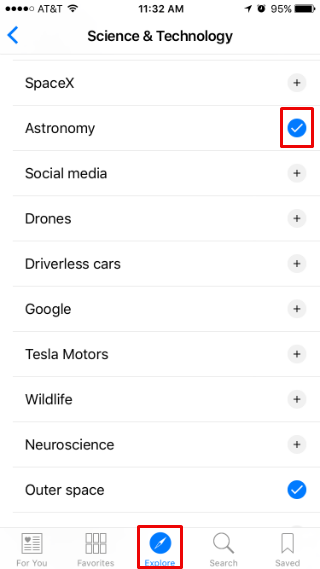 This was available in the iOS 9 version; what's new in iOS 10 is an improved algorithm to better hone in on what kind of articles you are looking for and several new tools. Like in iOS 9, you can still swipe on the article to reveal Love and Dislike buttons, but now there are a few additions. Swiping left reveals the Love button along with Share and Save buttons. Swiping right gives you the Dislike button along with an option to mute the channel or report a problem with the link. The more you use these options, the more News will learn about what you want, allowing it to present better articles to you the next time.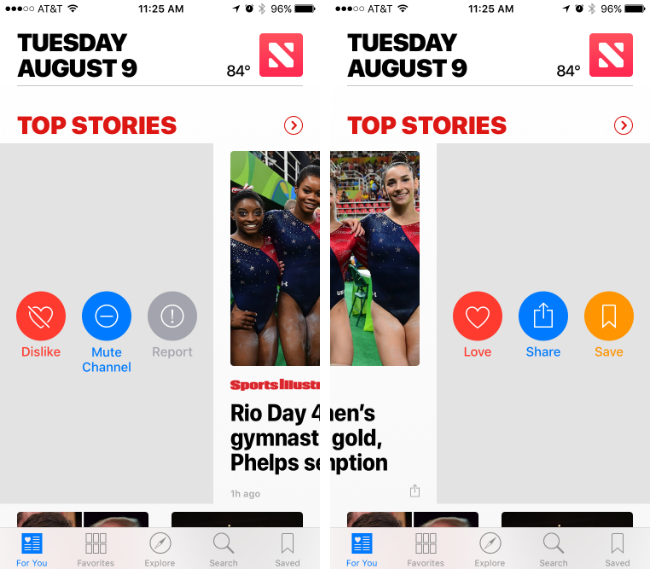 Notifications
This is a brand new feature in iOS 10's News app. Now you can have notifications pushed to you whenever there is breaking news. The pickings are slim in the public beta, but hopefully there will be more available when iOS 10 officially launches in the fall. Right now you can choose from Top Stories and Editor's Picks selected by Apple News, plus The Washington Post, CNN and Bloomberg. To activate notifications, tap on Favorites at the bottom, then tap on the bell in the top left corner. Toggle on/off which ones you want to receive notifications for. Tap Done in the top right when you are finished.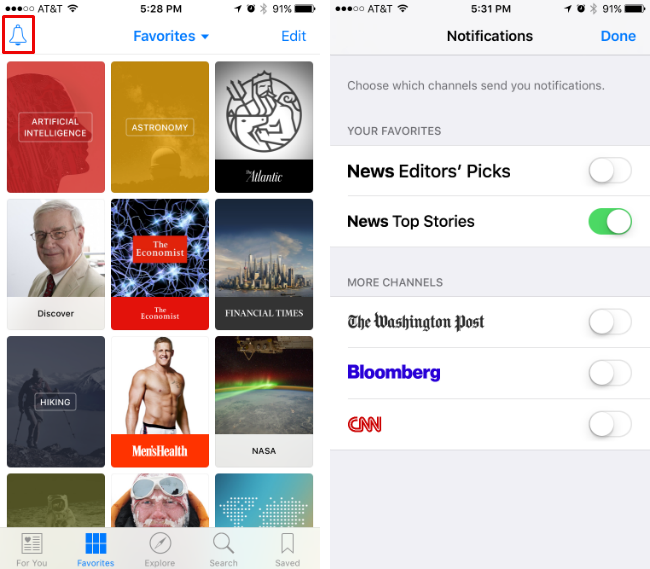 Access to paid subscriptions
You will now be able to log in to your paid subscriptions such as The Wall Street Journal so you can continue reading article after article. In the previous version this presented a problem once you hit your maximum amount of free articles, even if you were subscribed. Now, simply log in and you will have full access.
iOS 10 officially launches this fall, but if you want to check out the updated News app or any of the many other new features before then, you can sign up for Apple's beta program and install the beta version now.