iOS 11 introduces several changes to notifications on iPhone and iPad including Cover Sheet, which is what the revamped Notification Center is now known as. Cover Sheet looks just like your Lock Screen and shows your notifications in chronological order rather than grouping them by app. While Cover Sheet is still very similar to the old Notification Center, there are noticeable differences in interaction and notification options.
Interacting with Cover Sheet
Cover Sheet opens just like Notification Center, by swiping down from the top of your screen. It looks just like your Lock Screen, including the wallpaper. Once it is open, you will see recent notifications and an "Earlier Today" section, followed by "Yesterday" and so on. Scroll through them by swiping up. Any notification can be opened by tapping on it or swiping it all the way to the right (swiping it partially to the right will reveal an "Open" button, but swiping all the way is the same as swiping partially and tapping the Open button). Swiping all the way left will clear the notification.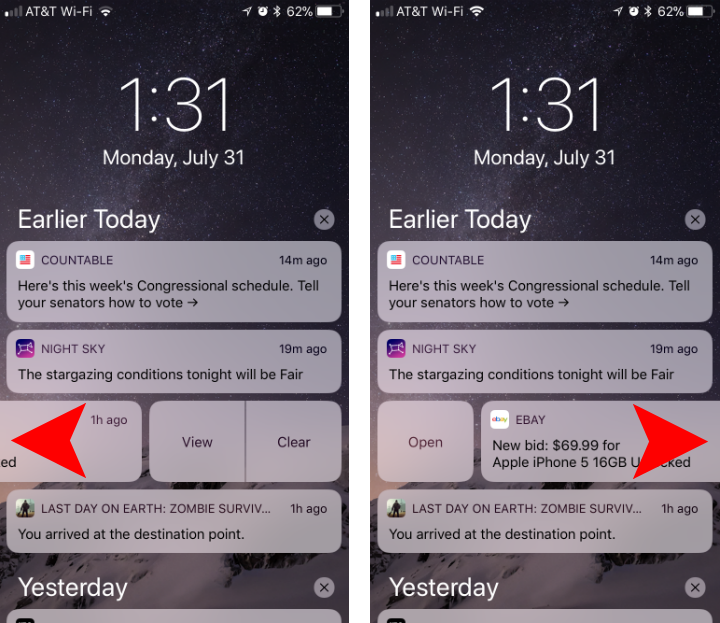 The Today screen and Camera are also accessible through Cover Sheet just like they are from the Lock Screen. Simply swipe right to get to your Today screen and left to get to the camera.
Notification options
iOS 11 adds some new options that give you more flexibility with how your notifications are displayed. You can now have your important apps notify you with a "Persistent" banner and show up regardless of whether your iPhone is locked or unlocked, and show up in your Cover Sheet. For notifications you don't care so much about, you can have just show up in the Cover Sheet so they are there when you look for them, but don't annoy you with dings and banners and such.
All of these settings can be accessed on a per-app basis in Settings -> Notifications. Here you can decide whether the apps' notifications make sounds, get badges on their icons, are shown on the Cover Sheet and in History, and if they get banners. You can have an app's notifications only show up in your Cover Sheet if you turn everything off except for "Show on Cover Sheet" and "Show in History." If you choose to have banner notifications you can opt to have them show temporarily or show until you acknowledge them (with the persistent setting).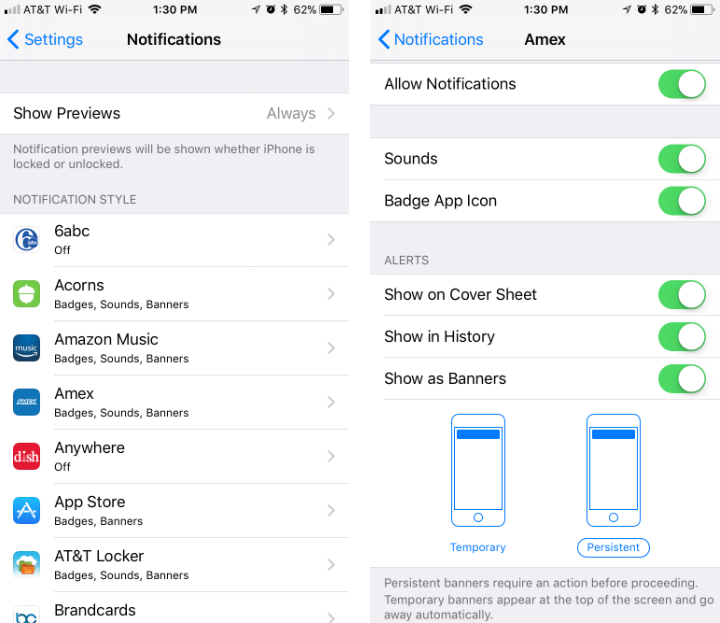 That about covers the major differences with Notifications in iOS 11. All of the toggles in the per-app settings will be on by default (except for Mail for some reason), so it's worth going through and customizing them, though it may be tedious.