How can I see battery status / life remaining on my AirPods? Does the AirPods case show how much charge is left?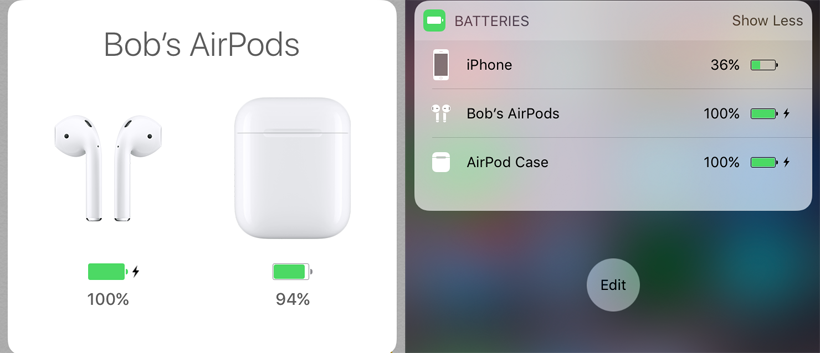 AirPods will play a tone when the battery level is low. Before this happens, battery charge status can be checked at any time using these methods:
Status light
The light inside the AirPods case will show charge status. When AirPods are not in the case, the light shows case battery status.
With the AirPods in the case, the light shows the charge status of the headphones.
Green: charged
Amber: less than one full charge left
iOS home screen
Place your AirPods in the charging case and unlock your iPhone. Opening the case next to the iPhone will show current battery status.
To see the battery status of both AirPods separately, take one out of the case while the battery status is displayed. The iPhone will show battery levels for left and right headphones.
Batteries widget
The Batteries Widget can be added to the Today View on iOS. Swipe from left to right on the home screen or lock screen, then tap Edit at the bottom. Find Batteries and tap the green "+" button to add the widget.
When the AirPods are in use, the current battery level will be shown in the Batteries widget. To see the case battery status, place one of the AirPods in the open case next to the iPhone. The Batteries widget will show the remaining battery life in the charging case.