Unless you've been living under a rock for the past few months, you've probably heard about Bitcoin's skyrocketing price. The almost daily headlines have focused a lot of attention on the cryptocurrency markets and altcoins (alternative cryptocurrencies), and the masses are now rushing to find the next Bitcoin. While there may or may not be another Bitcoin, there is still plenty of potential in investing in cryptocurrency, as seen in Ripple's (XRP) 1000% jump over the past couple weeks.
Just like investing in the stock market, real-time information is key in investing in cryptocurrency - awareness of the various currencies' prices on many exchanges is crucial for making informed decisions, whether day trading or holding long. Realizing this, app developers have responded accordingly - here are five popular iOS apps to keep you up to date on the crypto-markets:
Blockfolio - This is one of the highest rated and most popular apps in the App Store for tracking your cryptocurrency investments. With Blockfolio you can track prices of over 2000 cryptocurrencies and see their current market information, including 24 hour highs, lows, bids, asks and volume. You can also view the most recent buy orders, sell orders and trades.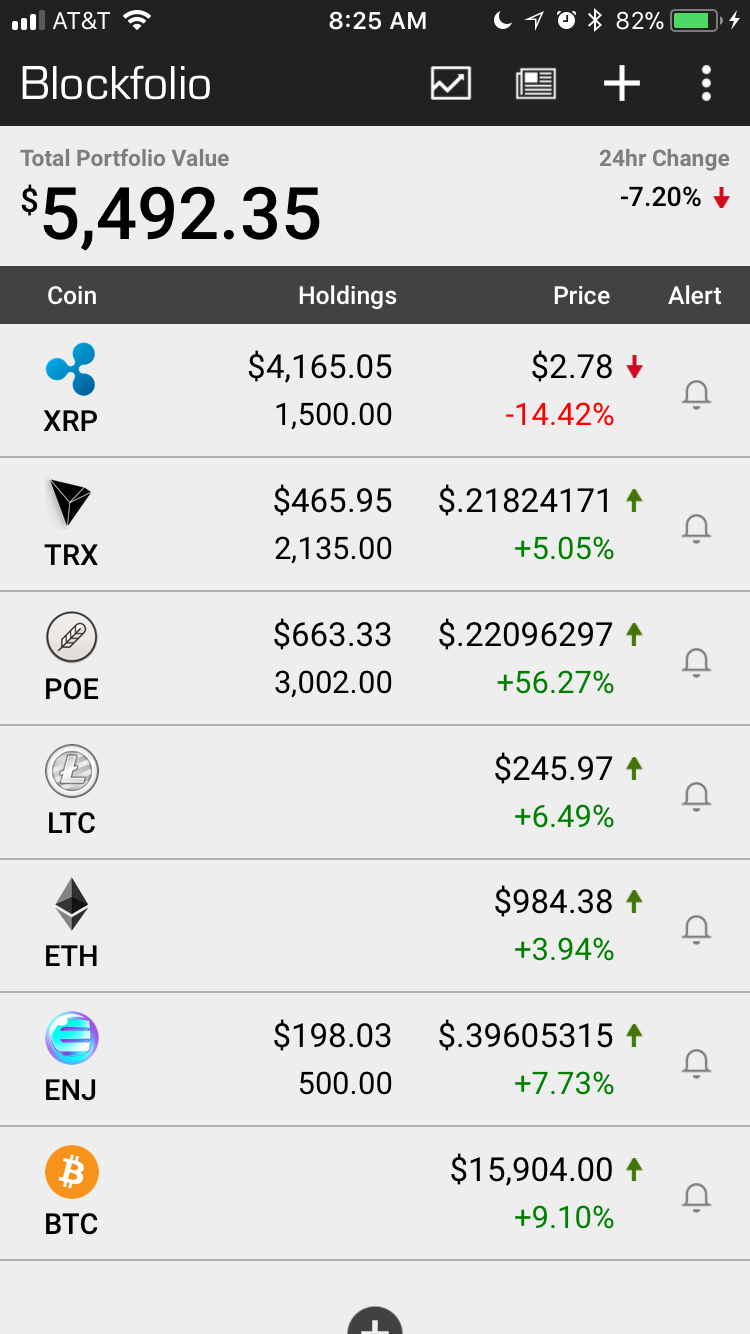 The app's portfolio tracker lets you enter your holdings so you can see everything at a glance rather than opening up every wallet/exchange that you have holdings in, plus you can set alerts to notify you when specific prices are reached. You can view your portfolio value in over 30 fiat currencies rather than in say, BTC, which can be difficult to keep track of. There is also a news feed to keep you abreast of the latest goings on in the cryptocurrency world. Blockfolio is a free download on the App Store with no in-app purchases or premium upgrades.
Coin Stats - Coin Stats is also one of the top rated crypto-tracking apps in the App Store. It allows you to monitor over 1000 altcoins, set price alerts on over 20 exchanges, create multiple portfolios and even sync portfolios with certain exchanges, which gives you a more accurate estimation of your current holdings' value, since cryptocurrency values can vary quite a bit depending on the exchange.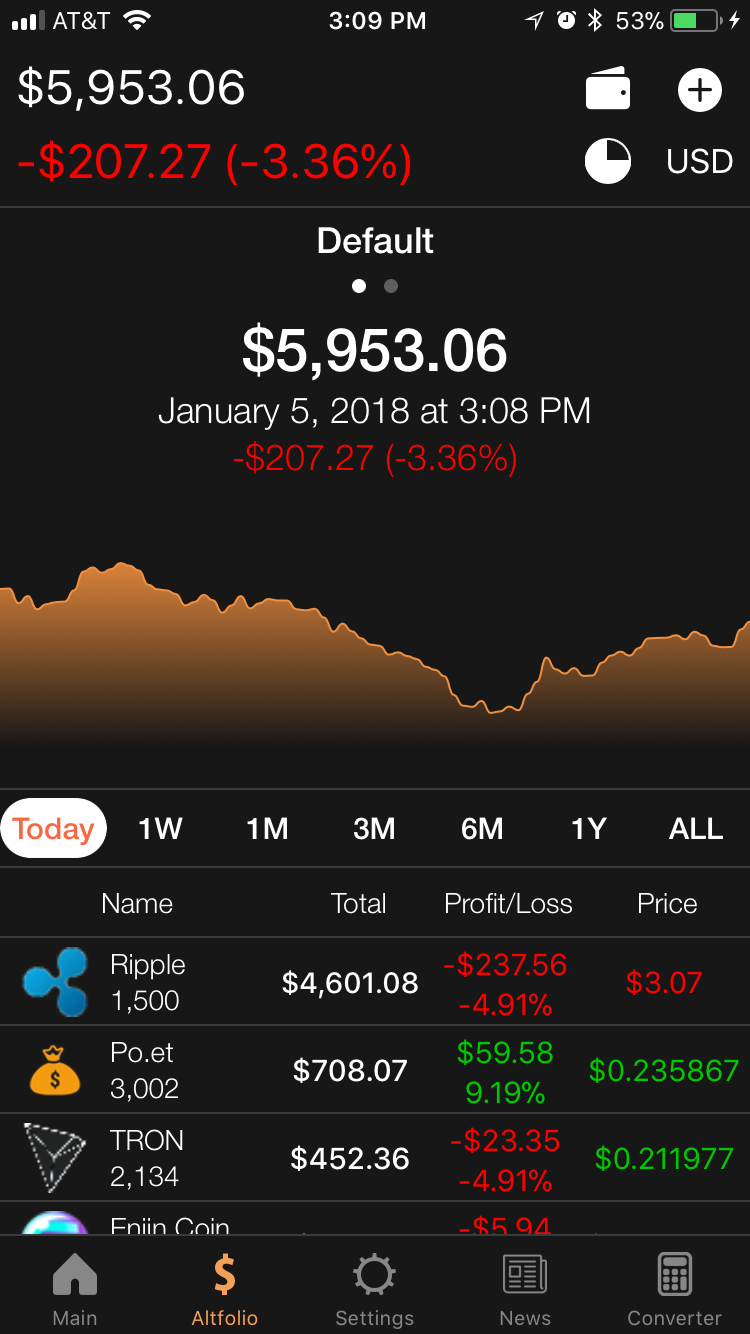 Coin Stats also has other nice features like a converter tool, a ticker on the app icon of your favorite crypto-coin's price, dark mode display, and a "pump alert" that lets you know when a coin is being pumped (this feature is currently in beta). Coin Stats' free version is limited however, only allowing portfolio tracking of up to $5,000 worth of altcoins, but $4.99/month gives you unlimited access to all features.
CoinCap - This is the official mobile app of the popular CoinCap.io crypto ranking/tracking site. Like any good crypto-tracking app it offers real-time market data for thousands of cryptocurrencies and allows you to create your own portfolios. The app lets you create detailed alerts, not just by price limits, but at specific times of your choosing.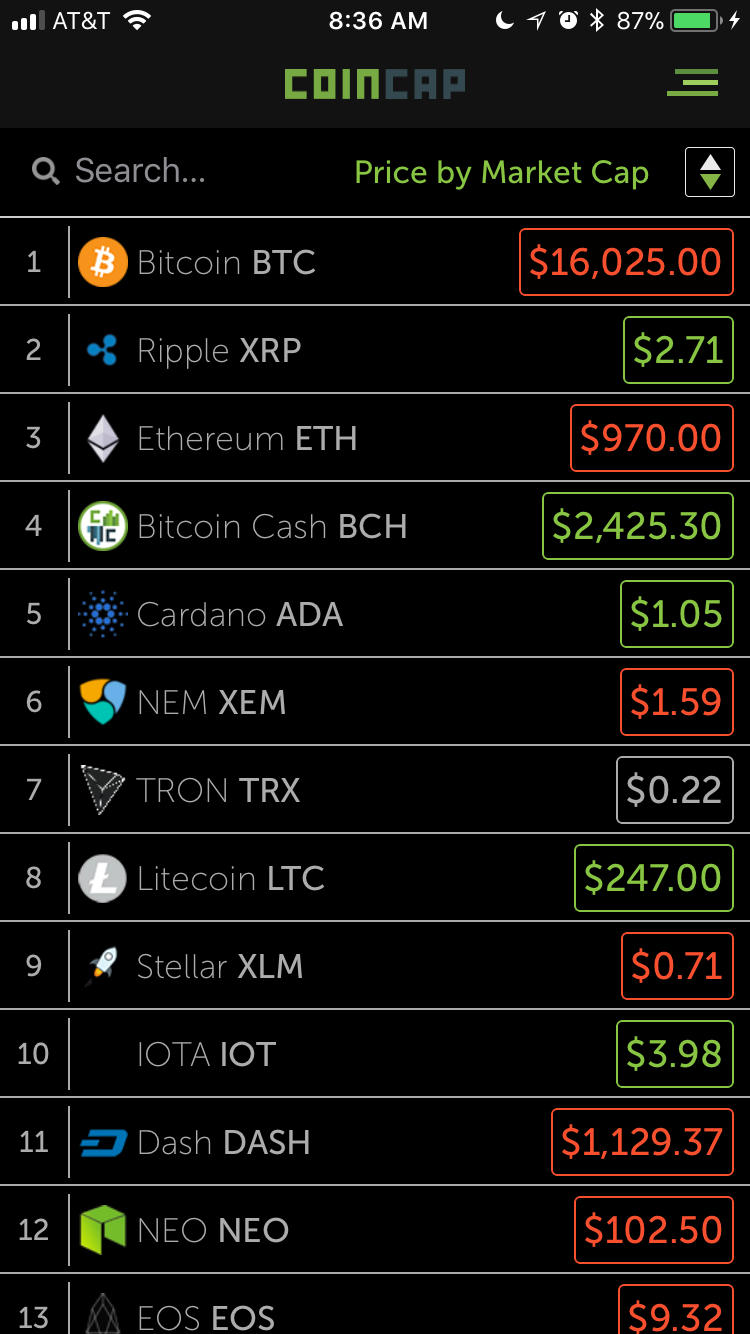 The interface is simple and a bit different than the others in that the prices flash red or green depending on their movement, making for a quite active display. One downside to CoinCap is that it doesn't have a news feed to keep you up to date on your holdings. If you just want to follow current prices though, it fits the bill nicely and, if you are so inclined, you can purchase cryptocurrency through CoinCap, though it will send you to the ShapeShift app, which is by the same publisher.
Crypto Tracker by BitScreener - While this app doesn't let you enter your portfolio for tracking, it more than makes up for that with its "Screener" feature that lets you identify potential investments by your own criteria - recent performance, market cap, price, age, exchange etc. On top of that, it has extensive information on each coin including links to the coin's webpage, white paper, GitHub (if applicable) and more.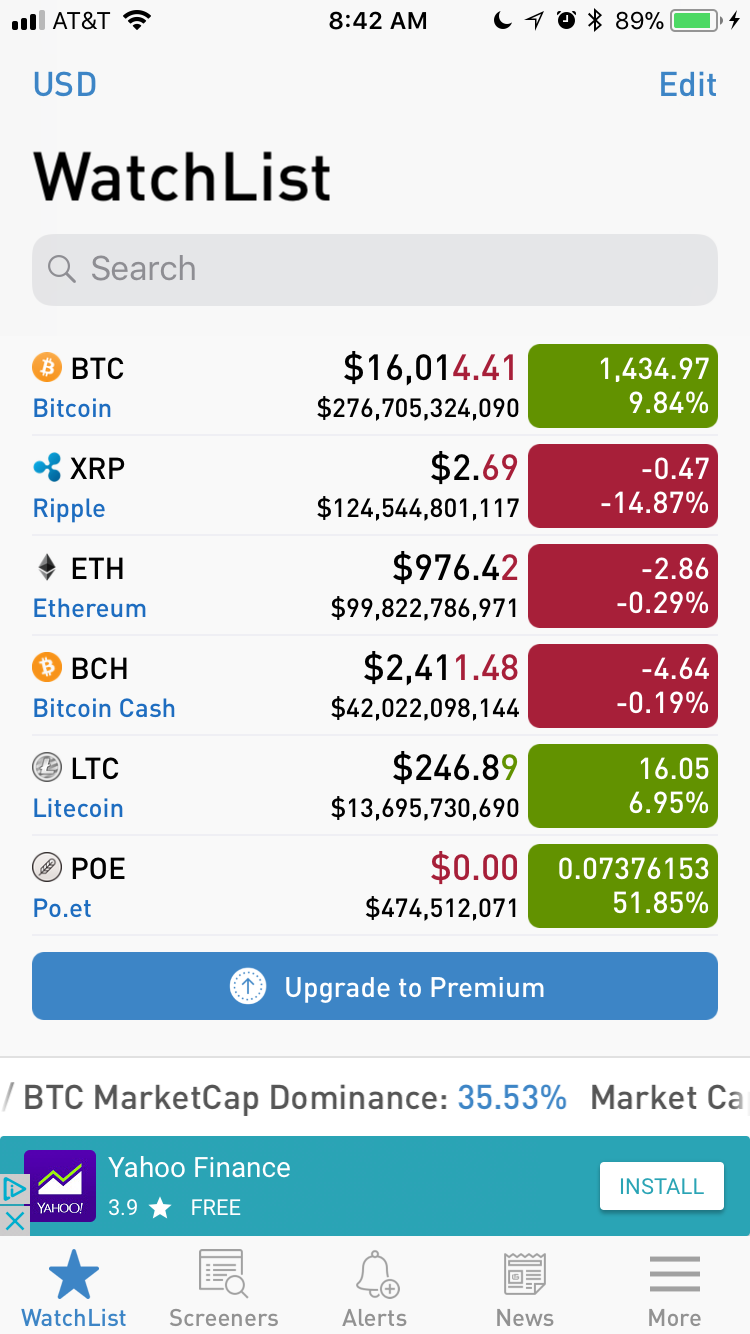 BitScreener also offers more charts than any other entry in this list, plus an extensive "Chart School" to familiarize you with chart-reading concepts. All of this makes BitScreener an exceptional research tool. Screeners and alerts are limited in number however, unless you pay to upgrade.
HODL - With its name steeped in crypto-lore, HODL offers real-time market data, news, charts and even tweets from both Twitter and Stocktwits. You can also create your own portfolios to track your holdings.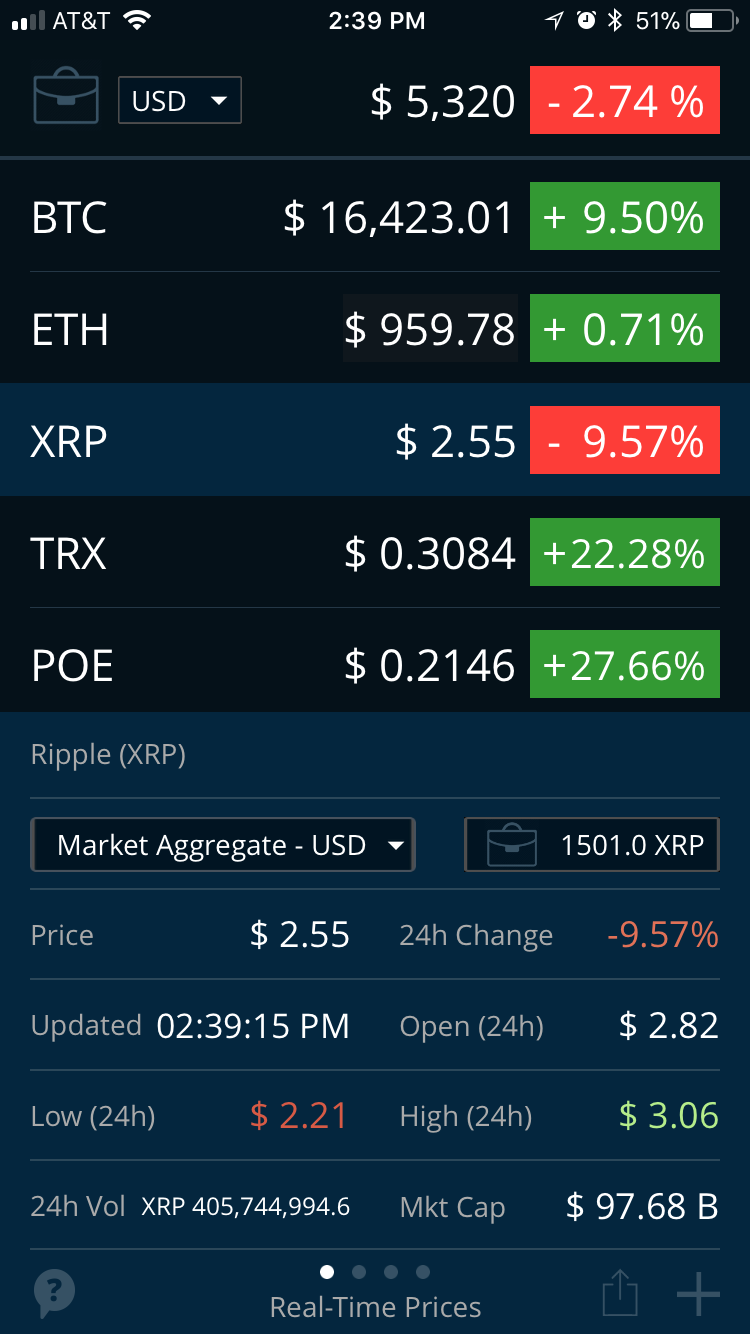 Its simple and intuitive interface stands out from the others in this list. The top half of your screen shows real-time prices of your favorite currencies while you can swipe the bottom to show more market info, news and tweets. Each coin has its own news feed, which is a nice feature as well.