Submitted by Frank Macey on
An internal product merchandising guide has been revealed by Appleosophy showing Smart Battery Cases for the latest iPhone models. The document, dated Fall 2018, was leaked from an internal Apple Store guide titled "Apple Premium Reseller Accessory Merchandising Guidelines". Apple's current case lineup is featured on the page, which falls under the Seasonal Accessory Colors section of the Product Merchandising chapter.
Over 90 iPhone cases are organized by color tone, with Apple recommending retail walls display available cases from cooler to warmer colors from left to right.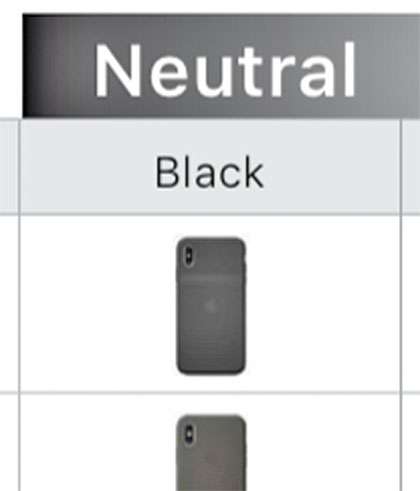 Two images show a battery bump on the back of black cases for the iPhone XS and iPhone XS Max. According to this document, Apple does not plan to release a white version of the Smart Battery Case for iPhone XS and iPhone XS Max. Previous leaks have shown the new Smart Battery Case features a vertical camera lens cutout, as well as a battery bump that extends to the bottom of the case. Other sources have also pointed to three model numbers, A2070, A2071 and A2171, which could indicate that the iPhone XR will get its own Smart Battery Case.
These designs resemble previous Smart Battery Cases, made for the iPhone 6s and iPhone 7. The battery bump centered behind the case had its detractors, however owners of the Smart Battery Case enjoyed seamless integration with iOS and the built-in iPhone battery.
Apple changes out new seasonal colors twice a year, with core colors remaining part of the accessory lineup all year. Smart Battery Cases are designed by Apple to seamlessly provide additional battery life to iPhones, with iOS providing charge status information and power management.