Submitted by Bob Bhatnagar on
40 live pro basketball games streaming directly to your iPhone every week? If you're a fan, NBA League Pass Mobile may be the ultimate basketball app.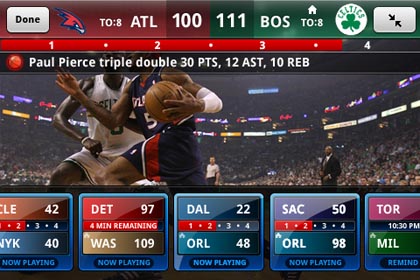 All of this streaming NBA action over 3G and Wi-Fi does come at a price. Total for the 2009-10 basketball season excluding tax is $39.99 in the App Store. Current NBA League Pass television subscribers don't get a break.
The NBA is considering offering a discounted price for both packages at a later date.
Local games are subject to blackout rules, although some games can be watched up to two days after the fact thanks to an on-demand feature.
From NBA Digital:
- Watch over 40 LIVE NBA games a week
- View full game replays for up to 48 hours after the game (Local market, national blackout and other restrictions apply to all live and replay games in NBA LEAGUE PASS MOBILE.)
- Daily highlights from around the league
- Live player stats for every game
- Live scores for every game
- Set "Remind Me" alerts for favorite teams or key games
- Send game and stats updates through Email, Facebook and Twitter