Submitted by Bob Bhatnagar on
How can I jailbreak and unlock my iPhone? This used to be a simple question with very few answers. Now that there are so many different models floating around determining the answer is more complicated. Add in multiple combinations of baseband, firmware and boot loader on this hardware and figuring out which solution will work can become very confusing.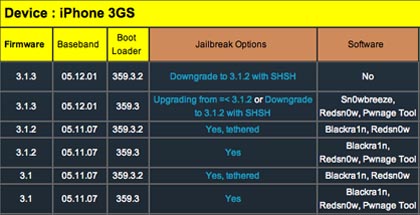 A new resource on the web seeks to change everything by organizing all known jailbreak and unlock solutions in one place, along with tutorials and other information. The iPhone & iTouch Jailbreak / Unlock Matrix has all of the answers you seek including a place for users to post comments.
The tagline for the new web site reads "jailbreaking made easy." Blue links go directly to the files necessary to jailbreak or unlock your device, or link to tutorials and how-to instructions for your particular situation. Links to firmware files and different versions of iTunes are also listed.
All models and firmware versions for iPhone and iPod Touch are covered on the page. Hopefully the creator of the site will keep it updated in the future, as it looks to be a great reference for the jailbreak-inclined users out there.
[via Just Another iPhone Blog]