Submitted by Bob Bhatnagar on
In mid-April AT&T Wireless subscribers will have the option of purchasing their own personal 3G cell phone tower. The MicroCell will run $149.99 and is fully compatible with the iPhone 3G and 3GS. The devices will be rolled out in different markets over the next few months.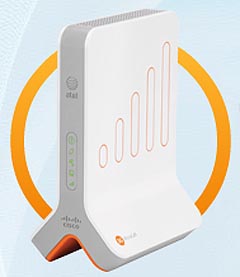 The MicroCell is a solution for users who have little or no 3G coverage in their home and access to a broadband Internet connection. The device allows users to make calls and send text messages against their AT&T Wireless account using a 5,000 square foot personal 3G network.
MicroCell data speeds will be slower than the 7.2 Mbps the iPhone 3GS is capable of delivering, however they will achieve 3.2 Mbps, matching standard 3G speeds. The MicroCell will provide support for up to four simultaneously calling 3G mobile phones and your iPhone will seamlessly transfer to and from the MicroCell when entering or leaving the range of the device.
There's no additional fee to use the MicroCell, however users who want unlimited calling on their MicroCell only can pay an additional $19.99. This will also net the user a $100 rebate towards the price of the MicroCell itself.
AT&T highlights the following features of the MicroCell:
- Enhanced coverage indoors – supports both voice and data up to 5000 square feet
- Available unlimited minute plans – individual or FamilyTalk plans
- 3G handset compatible – works with any AT&T 3G phone
- Supports up to four voice or data users at once
- Device is secure – cannot be accessed by unauthorized users, easy and secure online management of device settings
- Seamless call hand-over – start calls on your 3G MicroCell and continue without interruption, even if you leave the building