Submitted by Bob Bhatnagar on
If the latest AdMob Mobile Metrics Report can be believed, roughly half of smartphones worldwide are running iPhone OS. The runner up this February is Android, with 24 percent. Symbian is in third place with 18 percent.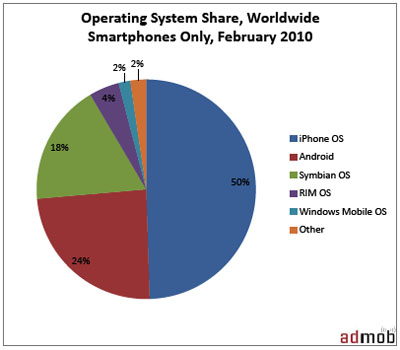 Although this is a serious achievement for Apple, the story gets more interesting when comparing the data to the same time period last year. iPhone has boosted its share by 17% over February 2009, while Symbian OS dropped a dramatic 25 percent.
Android blew everything away in growth, adding 22% this February over its just-released showing of only 2 percent in 2009. Mobile Internet devices in general leapt from 7% of total AdMob traffic in February 2009 to 17 percent this year.
When it comes to smartphone share in just the US, the competition between iPhone and Android is neck and neck. The iPhone OS now stands at 44% of AdMob requests, with Android breathing down its neck at 42 percent. Looking at the past few months it's clear that Android is poised to overtake iPhone OS in the next month or two in the US.
Regardless of the stiff competition, analysts reporting in
Forbes Magazine
are upbeat on Apple's future prospects. Forecasts indicate Apple shares will continue to increase as iPhone app downloads surpass a total of 13 billion in 2011.
AdMob compiles the report using data from its network of over 15,000 mobile web sites and applications. The company serves ads and researches trends in the mobile ecosystem to optimize ad matching in its network, which handles over 10 billion monthly ad requests.