Submitted by Chad Shmukler on
Did you give or, better yet, have the pleasure of receiving an Apple iPhone this holiday season? If so, you're likely already wondering how to keep your favorite, new, constantly handled device safe from harm. Unfortunately, the reality of the situation is that statistics indicate that 80% of all iPhone failures are the result of accidents and not factory related defects or other unexplained failures with the devices themselves (kudos to Apple). Since the standard iPhone warranty and extended AppleCare coverage do NOT cover accidents, many customers are left having to pay unsubsidized prices as high as $699 to replace broken iPhones.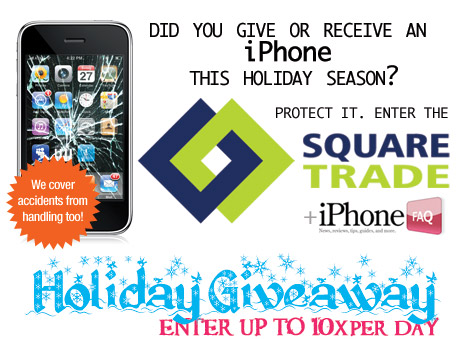 As the first in a series of iPhoneFAQ post-holiday contests and giveaways, we're launching the Squaretrade iPhone Warranty Contest today. Squaretrade is the leading third party insurance provider for the Apple iPhone and many other digital devices. Squaretrade offers 2-year iPhone insurance warranties as an alternative to AppleCare coverage for the iPhone. Unlike AppleCare, Squaretrade warranties cover accidents such as spills (and other water damage), drops, and other breakages. Squaretrade warranty coverage has received 5-star and 4.5 star ratings from customers on NexTag.com and Epinions.com, respectively.
The contests begins today (Decemeber 27th) and ends on