Submitted by Chad Shmukler on
Did you give or, better yet, have the pleasure of receiving an Apple iPhone this holiday season? If so, you're likely already wondering how to keep your favorite, new, constantly handled device safe from harm. Unfortunately, the reality of the situation is that statistics indicate that 80% of all iPhone failures are the result of accidents and not factory related defects or other unexplained failures with the devices themselves (kudos to Apple). Since the standard iPhone warranty and extended AppleCare coverage do NOT cover accidents, many customers are left having to pay unsubsidized prices as high as $699 to replace broken iPhones.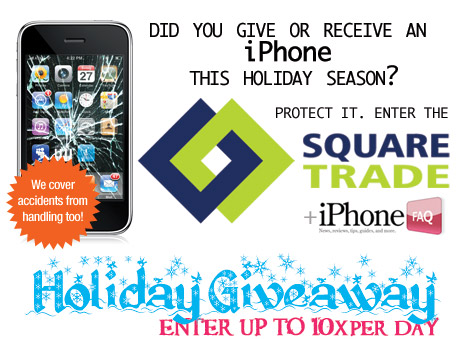 As the first in a series of iPhoneFAQ post-holiday contests and giveaways, we're launching the Squaretrade iPhone Warranty Contest today. Squaretrade is the leading third party insurance provider for the Apple iPhone and many other digital devices. Squaretrade offers 2-year iPhone insurance warranties as an alternative to AppleCare coverage for the iPhone. Unlike AppleCare, Squaretrade warranties cover accidents such as spills (and other water damage), drops, and other breakages. Squaretrade warranty coverage has received 5-star and 4.5 star ratings from customers on NexTag.com and Epinions.com, respectively.
The contests begins today (Decemeber 27th) and ends on
January 2nd, 2010 at midnight. Two (2) winners will be drawn from the pool of entries and will receive certificates for free Squaretrade 2-year iPhone warranties good for any model of iPhone (8GB, 16GB, or 32GB). Another ten (10) winners will receive $10 off Squaretrade warranty coupon codes. As an added bonus to all entrants, everyone who enters will receive a $5 off Squaretrade coupon good towards the purchase of any Squaretrade iPhone warranty.
Contestants can enter up to 10x per day for each day the contest runs (that's up to 70 entries). Once the contest has closed, the twelve contest winners will be drawn randomly and notified via email, so be sure to enter a valid email address. iPhoneFAQ respects your privacy and hates spammers, so you can count on your email address being safe with us. We'll never sell or share you email with anyone. To enter the contest, head to our
Squaretrade iPhone Warranty Contest
page now.
Here you can read our Squaretrade iPhone Warranty review.
For more information on Squatrade's warranties, you can visit the Squatrade homepage.