Submitted by Marshall Walker on
We're giving away 4 free promo codes for the iOS game DuckieDeck Family Photo. The app allows toddlers to create funny and creative caricatures of their family and friends without the need of costly in-app purchases.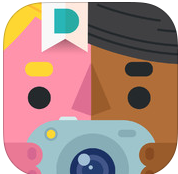 Family Photo is easy to use, children can choose from a variety of colorful faces, facial features and accessories to create group photos of their family. The game features over 100 different options, like noses, eye shape, glasses and facial hair, to choose from.