Submitted by Chad Shmukler on
As of midnight tonight, our Squaretrade iPhone Insurance Contest will officially end. That still leaves an opportunity for those of you that haven't entered to get 10 entries in the drawing pool, and those of you who already have to increase your chances of winning by getting your last day's worth of entries in. As a reminder, we'll be drawing winning entries for Squaretrade 2-year iPhone warranties good for any model of iPhone (8GB, 16GB, or 32GB) and ten (10) entrants will receive $10 off Squaretrade warranty coupon codes. Everyone who enters will receive a $5 off coupon code good towards any Squaretrade purchase.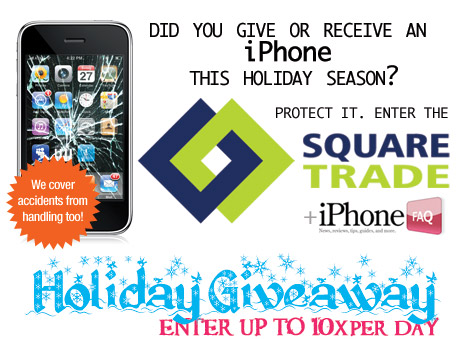 Squaretrade is the leading third party insurance provider for the Apple iPhone. Unlike AppleCare, Squaretrade warranties cover accidents such as spills (and other water damage), drops, and other breakages.
Here are a few customer testimonials on Squaretrade from NexTag.com
"Highly recommend! Bought a 3 year warranty on a cell phone and after 2 years, the phone stopped recognizing the SIM card. Quick as a flash, SquareTrade sent a postage paid label and within 4 days of me shipping the phone, notified me that they were sending me money via PayPal to cover the cost of the phone! Couldn't be happier!"
"I have to admit I was a bit skeptical buying this warranty because of all the horror stories you hear about warranty companies not honoring a claim or have so much red tape. I was pleasantly surprised when I had to file a claim and how fast and professional SquareTrade was in handling my claim. I will definitely use them again."
"I purchased a new NEC phone on ebay and bought a 3 year warranty from squaretrade. The phone's microphone stopped working about 1 year and a half later but i forgot about the warranty that i had purchased. When i went to purchase another warranty for a ipod that i bought i realized that i had about 2 weeks left on the NEC phone. I called squaretrade they offered me my full purchase price and i sent in my phone using a prepaid mailer that they sent to me. The whole thing was so easy and stress free. I received my refund a few days later and i will definitely be purchasing more warranties through squaretrade!"
Don't miss out on the last day of entries and a chance to protect your iPhone beyond what your warranty and an AppleCare extension can offer for 2 years. Head to our Squaretrade iPhone Insurance Contest page to enter.