Submitted by Bob Bhatnagar on
Only two days until we randomly select winners in the SquareTrade iPhone Warranty Contest! Two entrants will receive certificates for free Squaretrade 2-year iPhone warranties good for any model of iPhone (8GB, 16GB, or 32GB). Another ten (10) winners will receive $10 off Squaretrade warranty coupon codes.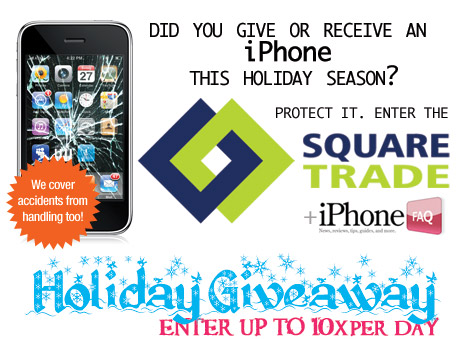 Every entrant will receive a $5 off SquareTrade coupon good towards the purchase of any SquareTrade iPhone warranty. You can enter up to 10x per day for more chances to win!
Squaretrade is the leading third party insurance provider for the Apple iPhone. Unlike AppleCare, Squaretrade warranties cover accidents such as spills (and other water damage), drops, and other breakages.
If you have a new iPhone, protecting it from damage with Squaretrade warranty coverage could save hundreds of dollars. Coverage lasts two years from the purchase date of your iPhone!
iPhoneFAQ respects your privacy and hates spammers, so you can count on your email address being safe with us. We'll never sell or share you email with anyone. To enter the contest, head to our Squaretrade iPhone Warranty Contest page now.
Here you can read our Squaretrade iPhone Warranty review.
For more information on Squatrade's warranties, you can visit the Squatrade homepage.