Submitted by Frank Macey on
There are plenty of toys on the market that use the iPhone, iPad or iPod touch as a remote control. How many of these send a live feed of their surroundings directly to your device? Now with the iSpy Tank you can turn your iOS device into the nerve center of your top secret espionage operation.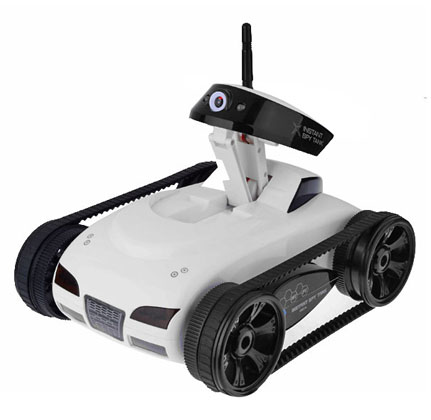 The free i-spy toys app provides complete control of the tank, along with up/down and zoom controls for the camera turret. Of course, you can shoot still photos of your target and record video directly to your iPhone. The iSpy Tank boasts a control range of up to 90 feet with its own built-in Wi-Fi network.
Connecting to the iSpy Tank with an iOS device is as simple as connecting to the tank's Wi-Fi under Settings -> Wi-Fi. The tank itself requires six AA batteries to operate. Happy Cow claims the iSpy Tank "offers top notch gaming experience and adds a whole new level of functionality for those who want to get the most out of their iDevice."
Thanks to it's two independent tank treads, the iSpy Tank can handle obstacles and can rotate in a complete circle in a fixed location. You can even tilt your iPhone or iPad to control the tank, instead of using on-screen buttons. The tank looks slick and features LED lights. The future is now, and you can purchase the iSpy Tank from iHelicopters.net for $99.